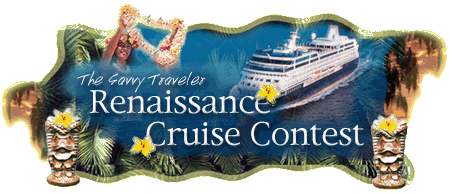 The Savvy Traveler's
Renaissance Cruise Contest

You think of the South Pacific and you think of...what? Beaches, beautiful sunsets? We think of the friendly people, the warm ocean breezes...just getting away from it all.
South Pacific cruises usually cost thousands! But not this time. The Savvy Traveler is going to send two people on a ten day cruise from Renaissance Cruises...all around Tahiti and the South Pacific. Airfare from Los Angeles to the port, all on-board meals and a state room with an ocean view -- that's all taken care of. Winners have a whole year to plan their trip.
The only question is: who to send? That's where you come in. Who do you know who really deserves to get away?

Send us your nomination. We want those heart-wrenching, tragic stories...or, maybe it's a comedy of errors. Write an essay about the horrors someone you know had to go through. Keep it short -- 250 words or less -- and tell us who deserves to go to Tahiti.
Then, each week for the next few weeks beginning November 13, we're going to read the best nominations on the air. When we get our top five, that's when we're going to the real judge: Public radio's own Ira Glass, host of This American Life. If anybody knows a good story it's Ira.
But, of course, there's a catch. There's just a few weeks to send in those stories. Remember: who needs a vacation, 250 words or less. A cruise to Tahiti. That's the deal. Good luck!
All entries must be received by 12:01 a.m. PST on Monday, December 6, 1999 for prize consideration. The winner will be announced on Friday, December 24, 1999.
For more information, please review the Contest Rules.
Submit your entries using the form below or by mailing to:

Renaissance Cruise Contest
c/o The Savvy Traveler
Marketplace Productions
University of Southern California
Los Angeles, CA 90007
Finalist essays from previous weeks: