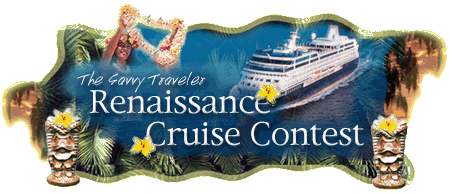 This Week's Finalist
My Sister, Punkin, Should Have a Cruise
Eli Richardson, nominating his sister Punkin
December 4-11, 1999
She was born in Florida, but our family moved to Kansas when she was very young. Even so, I remember her room decorated with blue waves painted on the wall, a bed shaped like a boat, and fishing nets hanging from her ceiling. She would spend hours in her room, floating while a whole continent of hardship stretched outward. Clearly, she had not forgotten the sea.
Her return to the water was interrupted by an early pregnancy. Very quickly she was locked into a life with an abusive husband and the isolation of life in the cultural island of trailer parks on the prairie.
Through sheer determination she improved conditions for herself and her daughter. She put herself through school while working at Wal-Mart, found a good husband and now has a job as a grade school teacher in a little schoolhouse not five miles from where she grew up.
As a teacher of young minds she encourages their drive to look beyond the horizon. Still, her own vision has been fenced by her life's circumstances and the dimensions of geography. Her house is now decorated with Western prints, wood carvings, Indian motifs, but I think of her still in that blue room in the middle of America.
Because of her victory over limitations, and her ability to encourage others not to recognize theirs, my sister deserves a cruise. Punkin should see the sea.
For more information on entering the contest or to read other finalist essays, please
review the Contest Details.