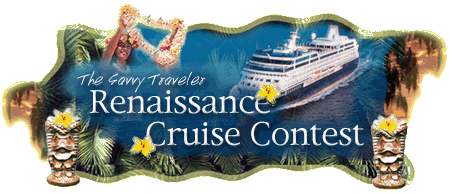 This Week's Finalist
Tropical Islands are Sunlight to His Soul
Karen Frascone, nominating her husband Joseph
November 27 - December 4, 1999
Some people need eight hours of sleep, others get by with less. So it is with vacation. Friends get their annual "vacation" RDA by driving one hour to the same beach house. Many people here in winter dreary Oregon suffer from Seasonal Affective Disorder. Joe endures a subcategory named TAD -- Travel Affective Disorder, a malaise due to infrequent island travel.
We simulate travel whenever possible: palm trees, pictures, subscription to Islands magazine. For some this would be enough. For Joe it comforts but not assuages his need. Travel to tropical islands is sunlight to his soul.
Joe is a school-based mental health therapist working in eight schools with kids who live daily in degrees of trauma. He does trauma well. He is valued beyond words. When we travel he brings back sand, shells or rocks with stories so his kids can experience the world beyond their own.
He has always dreamed of going to Tahiti, goes to sleep with a copy of "Lost and Found in Tahiti." His passion and love for the South Pacific energize and fill him with joy.
Today he reported suspected child abuse. He's read about islands where people greet each other with, "Are all the children well?" That's his vision for our society -- a place where all chldren are valued and well cared for. A trip to Tahiti won't accomplish that but it would provide enough sunlight to the soul of a wonderful weary crusader for our society's future to go on for another day.
For more information on entering the contest or to read other finalist essays, please
review the Contest Details.