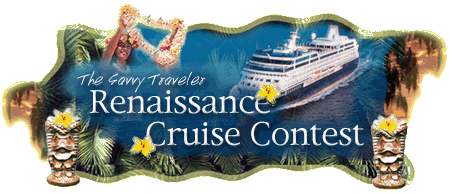 This Week's Finalist
A Dream of a Cruise Deferred
by Jennifer Coyne Krehbiel, nominating Jean and Charlie Schaefer
November 13-20, 1999
I was an addict living in Iowa City when I realized I was pregnant. Having nowhere else to turn I called the Schaefers in Wisconsin. Though I hadn't seen them in ten years they immediately invited me into their home. I stayed with them -- penniless and strung-out -- until I had Toby. They were supportive and affectionate throughout.
I moved back to Iowa and was eventually indicted on federal drug conspiracy charges. The Schaefers took my four-year-old son as their own, raising him with their daughter, Hannah.
Jean and Charlie had saved money to go on a cruise the year Jean turned forty. That year her father died, and between that and the added emotional and financial responsibility of caring for a newly motherless child, their dream was deferred.
They seek no thanks for their sacrifices, but I have longed to show them my gratitude and have hoped that one day I could give them the vacation they lost.
Take a look at a picture of the actual letter sent in by Jennifer.
For more information on entering the contest or to read other finalist essays, please
review the Contest Details.