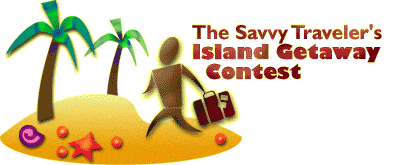 The Savvy Traveler's
Island Getaway Contest: The Winner

There is one place where they'll understand your English just fine. It's the island paradise called the Turks and Caicos, in the Caribbean. Of course, those names should be familiar to Savvy Traveler listeners by now ... because they are the prize in the Savvy Traveler's Island Getaway Contest. For the last few weeks, we've been promising one lucky person a trip there. Now, our winner and a guest will stay for a week at the Blue Horizon Resort, on Middle Caicos Island. American Airlines has generously offered to fly them there. All you had to do to win was send us a letter with the best answer to this question: if you were stranded on a deserted island ... who would you want with you?
Well, the entries are in. Over 600 of them! And we're impressed. Nominees included everyone from Cindy Crawford to Bullwinkle the Moose. But what's most surprising is the vast majority of listeners nominated their spouses. Most people seem to have found their own kind of paradise...right in their own home. It's a little cheesy, but heartwarming, too.
We got a decision from Tony Wheeler, the judge of our Island Getaway Contest. You usually know him as the founder of Lonely Planet Guidebooks.
| | |
| --- | --- |
| | The lucky winner of our Savvy Traveler Island Getaway Contest is Judith Callander of Warren, Vermont. She sent us an essay detailing all the projects that could be done while stranded on a desert island with Martha Stewart. According to Judith, she and Martha would not be mere hunter-gatherers, they would be decorators! This kind of enthusiasm for what some may consider a hellish experience was both stunning and inspiring. For her ingenuity and resourcefulness, Judith gets to take a week-long, Caribbean vacation to the luxurious Blue Horizon Resort on Middle Caicos, in the beautiful Turks and Caicos islands. And don't worry, Judith. We're sure the Blue Horizon staff are quite adept at basket-weaving and necklace-making. |
The Island Getaway Contest Finalists
Now Tony had a tough decision to make. We received hundreds of entries, ranging from husbands and wives to Sheherazade to Jesus of Nazareth, but they were narrowed down to just six finalists. We spoke with each of them about who they would choose to be stranded with on a deserted island and they were all very creative answers. Though we could choose only one, we present the five other finalists and their essays.