Morley Young
Cheshire, OR
A No-brainer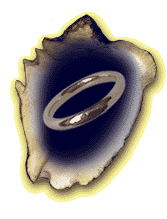 It was a long, arduous search, Would it be Sophia Loren? No. Carlo Ponti would probably object, and she probably wouldn't have anything to do with me anyway. I am sort of fat and dumpy, and I've lost most of my hair, but there the similarities between Carlo and me end.
So I rejected Sophia, and I thought of several more beautiful, sexy women, but somehow, none of them seemed to match up. I couldn't be stranded on a desert island with those women. Do they know about my blue - sometimes black- moods? Would they rub my back with liniment when it's aching? Could they make a great meal out of leftovers? Wouldn't they remind me to take my medicine?
Then it came to me. Perhaps I was casting my net in too wide a circle. Perhaps I should look right here in Oregon. Maybe even in Lane County. Well, I looked, and would you believe it? I found the perfect woman. I know she's the perfect woman, because I will have been married to her for fifty years, come September. I'm really glad she's had the patience to put up with me all this time.
Eileen Young is the woman I would most like to be stranded on a desert island with. She is the only woman I would like to be stranded on a desert island with.