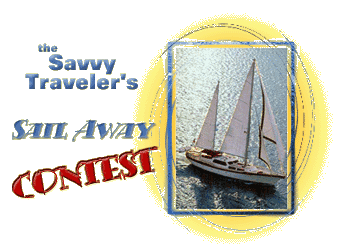 The Savvy Traveler's
Sail Away Contest

A Savvy Traveler listener is going to win the ultimate in luxury travel, a cruise aboard the Alsons II sailing yacht, an 82-foot work of art, with wood-paneled state rooms, marble bathrooms, and a personal chef. Sounds brutal doesn't it?
This is a private cruise for our winner and a guest. They can choose to cruise in New England or the Caribbean. And American Airlines will fly them to meet the yacht in their destination of choice.
So, who's it gonna be? Well, we received hundreds of essays responding to this question: if you could travel anywhere in the world, anywhere in time, where would you go?
After much deliberation we whittled the choices down to five finalists. Like Michelle Boyd, who wants to go back in time to see her parents, on the day they eloped. Melanie Denstaedt wrote about taking a trip to Mississippi to see her liberated ancestors when they were released from slavery. Linda Mueller imagines meeting the poets of Moorish Spain. And Gary Frederick dreams of the future, a time when he can visit colonial Mars! And finally, last week, we had Jason Morrissey, a quarryman, who waxes nostalgic about the "quarries of the past."
Thanks to all of you who participated in our "Sail Away" cruise contest. Click here to see the winning essay.
We asked our Savvy Traveler listeners this question: If you could travel anywhere in the world... or in time, where would you go?
Here are our finalists for our "Sail Away Contest." Tune in this week to hear who the big winner is.
Click here to view the contest rules.