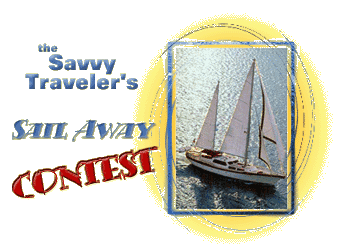 Our Sail Away Contest Winner
The Savvy Traveler's Sail Away Contest:

Answer this question: If you could travel anywhere in the world... or in time, where would you go? But this week, we have our last finalist. Jason Morrissey, a quarryman, from Shullsburg, Wisconsin. He is our essay finalist for the week of October 13, 2000
Quarries of the Past
by Jason Morrissey
Twenty years in the hole has a way of giving a man powerful daydreams. The life of a quarryman lends itself time to think. You intertwine yourself within a metal giant, from long before the sun awakens till long after it has gone to doze. One would tend to think that a person needs to pay attention and not slip into fantasy when they are operating a # 120,000 front-end loader; still I haven't had an accident yet. (Yet) The machines wheeze and pop out their songs; as they do their part in turning the bones of mother earth into the buildings and roads that will take men to their present, future, and pasts. I can't stop thinking of my brethren of past ages. What were the daydreams of the quarrymen that toiled out the great pyramids, Stonehenge or the palaces of Rome and Greece; even if they were aliens from a distant galaxy? I feel the strain in their backs and the pain in their hands. If I could go anywhere in the world, at any time, I would go to the quarries of the past. To feel the sun shining on my back, to taste the sweet dust of freshly cleaved rock, to smell a fresher world. Looking upon the places and work of the past that have made a world of daydreamers in the present, and surely the future, then I might be closer to feeling the daydreams of the original dream.
Be sure to read our other finalist essays.