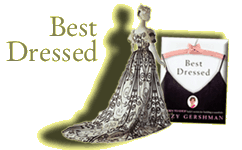 Best Dressed
An Interview with Suzy Gershman
The last time shopping guru Suzy Gershman stopped by, she gave us advice for getting a good bargain when we travel. And since Suzy is the author of Frommer's "Born to Shop" guides, who better to talk about packing to look smart on the road...no easy feat as all business traveler's know...especially if you're trying to avoid checking your luggage. Rudy asked her if it's possible for a business traveler to look stylish and still only carry a single piece of luggage.
Listen in to an earlier interview with Suzy: Shopping with the Pros.