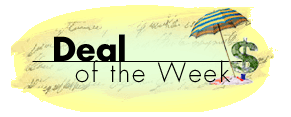 December 29, 2000
Around Europe For Less on Lufthansa
If you've ever tried to fly around Europe, you know that on average, fares are a lot more expensive there than they are here in the U.S. During the last several years, a number of smaller airlines have sprung up, trying to become the Southwest Airlines of the Continent, and many do, indeed, offer cheaper fares than the big guys. Only problem is, their routes are limited.
Now one of Europe's largest airlines, the German carrier Lufthansa, is offering excellent fares all over Europe. The catch? You must cross the Atlantic on board Lufthansa, or its alliance partner, United Airlines. Buy a round-trip ticket from either airline between the U.S. and Europe, and then, once you're there, you can fly to more than 100 cites in 35 countries for - get this - only $89 a flight. Lufthansa calls it a Eurofare. I call it a Major Bargain. Here's the fine print: You must book your Eurofare tickets before you leave the United States. And while the offer lasts until April 7, you have to fly your first leg by the end of March.
Zip around Europe for less on Lufthansa - that's my Deal of the Week!