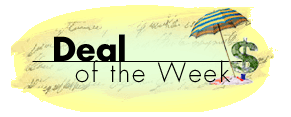 September 29, 2000
Last-Minute Hotel Rooms for Less
This is The Savvy Traveler, and it's time for my Deal of the Week!
The Internet is finally coming to the rescue of hotels that need to fill up at the last minute, something that airlines have been doing with empty seats for several years now. The two new websites I'm going to tell you about aren't as advanced as most airline sites, but if you're looking for an inexpensive hotel room, they may work for you.
The first is Roomsaver.com. It invites you to print out coupons for lots of mid-priced motels and hotels like Ramada and Red Roof Inns around the country. I clicked on a Ramada outside of Washington, D.C., in Rockville, Maryland and I found a $99 coupon for a weeknight; the hotel quoted me $40 more when I called to ask its best price. But there's a catch. The rooms are based on availability when you arrive; you can't reserve them.
Then there's Laterooms.com that promises up to 75 percent off on all kinds of accommodations: 3,500 properties in 43 countries. It provides rooms for two weeks into the future. Now, this site has a way to go. There's only one property in all of New York, for example, and none in D.C., Baltimore or Los Angeles. The New York property was an East Hampton Inn, and the savings was about 20 percent. But bookmark these sites and watch to see if they increase their inventory as they mature.
Roomsaver.com and Laterooms.com: sleep for less down the road. That's my Deal of the Week!