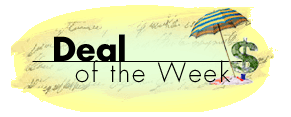 September 15, 2000
Airline Fare Sales
You're on a journey with The Savvy Traveler, and it's time for our Deal of the Week!
Post-summer airfare sales have begun, so grab a pen because I'm going to run down a list that just might tempt you to travel. First up with a sale is United, trying to re-build business. Domestic and international tickets are discounted as much as 50 percent with only a seven-day advance-purchase required. How about round trip, New York-London for $228? D.C.-Orlando, $198. Chicago-Denver, $178. You can travel until mid-December, but you must buy tickets by September 22nd.
Qantas and United are also offering cheap flights to Auckland, Sydney and Melbourne through the first week of December. Fly from L.A. to Sydney for about $400 off the regular fare. Again, buy tickets by the 22nd. Air Jamaica gives you 'til the 26th to take advantage of sale tickets to the Caribbean. Example? New York to Kingston, $351 for mid-week travel.
Meanwhile, Aeromexico begins an on-line ticket auction. Click on TheDailyAuction.com to check out deals from major U.S. cities to major Mexican cities. And here's a footnote: British Midland inaugurates North America service this spring, flying to Manchester from both D.C. and Chicago. Pick up an introductory fare until the end of October: $399 round trip for mid-week travel, $50 more for weekends.
Damn the fuel surcharge! Airfares on sale! That's our Deal of the Week.