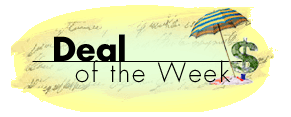 September 1, 2000
Last-Minute Cruise Vacations

I'm Rudy Maxa, and it's time for my Deal of the Week!

If the Labor Day weekend has you thinking about the approach of cold weather, then maybe your mind has drifted to a Caribbean cruise. For years, travel agents that specialize in cruises have sold last-minute deals at below-retail prices. Now the web is the new staging ground for those offers. And one web site called Cruisestandby.com promises to pair you with a dream cruise at the last minute at a deeply discounted price.

But before you start packing that sun block, you should know this. You won't know what cruise line you're sailing until you've requested an itinerary, sailing dates, and paid a non-refundable deposit of up to $100. It's sort of like Priceline.com, the company that doesn't tell you what airline you're flying until you've given 'em your credit card number. Except in the case of a cruise line, the name on the ship is more important. You're only on a plane for a few hours, but you live on a ship for a week or so. And the style of cruise lines can differ greatly. You can choose your preference of cruise line, but there's no guarantee you'll get it. My advice: Be prepared to lose that deposit if you really don't like the ship you wind up on. On the brighter side, you may score a great deal that will allow you to buy pina coladas for your entire table before dinner!

Discount cruising joins the World Wide Web. That's my Deal of the Week!