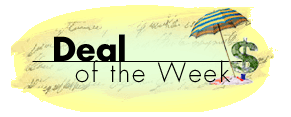 August 18, 2000
Canada on the Cheap
You're on a journey with The Savvy Traveler. I'm Rudy Maxa, and it's time for my Deal of the Week!
It's mid-August, with only a couple weeks of summer vacation left. It's the time of the year when people ask me in a slight panic, "Where's the best place to go right now without breaking the bank?" Now, more than ever, the answer is simple: Canada.
The American dollar now almost buys two Canadian dollars, an unprecedented exchange rate that spells bargain for those of us who live south of the border. That means you can stay in B&Bs for as little as $40 a night, even in the cosmopolitan city of Toronto. Stay on the ocean on Canada's West Coast or overlook the scenic San Juan Islands for $65 a night for a double room. Roam Nova Scotia or the lush country above Quebec. And along with accommodations, you'll save money on car rentals, gas and restaurants. In fact, you can buy just about anything, including clothing and furniture, for half what it costs in the U.S. So, if you're a person who travels to shop as well as sightsee, Canada is the place for you. Check out these links to Canadian web sites. They'll make your head swim with possibilities.
Our friendly neighbor to the North, on sale more than ever. That's my Deal of the Week.