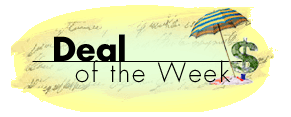 August 4, 2000
Spain: Two for the price of one
You're on a journey with The Savvy Traveler, and it's time for my Deal of the Week!
One of the best European bargain countries these days is Spain, and there's all kinds of reasons to visit. The Guggenheim Museum at Bilbao, for example. The restaurants of Barcelona. The tapas of Madrid. The resort islands of Ibezia, Mallorca and Menorca.
Now, if you buy your ticket by August 19th, you can fly the Spanish airline Iberia to Spain and bring along a companion for only ten bucks. That's ten American dollars. From New York, it'll cost two of you $690 in October, $600 November first through December 14th. But you can leave from other cities around the country, as well, and you can fly through Spain on to other cities in Europe, such as Amsterdam, Frankfurt and Vienna for the same ten dollar deal. It's not complicated. Book by August 19th and fly between October and mid-December.
Now, this deal is not available directly from Iberia, so go check out the link below so you can visit the Continent at a pretty darn good price in a couple of months.
Two for the price of one to Europe. That's my Deal of the Week.