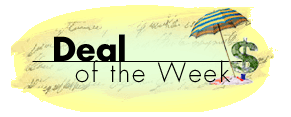 July 28, 2000
Down Under prices come down
A few weeks ago, we told you how demand for Olympic tickets isn't as strong as some travel providers hoped. Translation: Cheaper deals. So if seeing Australia as well as a few of the Olympic games this September sounds good, this is the time to make your move.
The only tour agency in the United States permitted to sell Olympic tickets is Cartan Tours in Manhattan Beach, California. Cartan has put together some new, lower-priced packages for the Olympics. You get airfare from Los Angeles to Sydney aboard Air New Zealand and six nights lodging in a resort area called the Blue Mountains. Plus, you receive tickets to Olympic events you can pre-select as well as transportation between the games and your resort. Rates are $3,349 per person, based on two people traveling. It wasn't long ago that you couldn't get near that price. For more details, check out these resources below or call Cartan Tours at (800) 818-1998.
Down Under prices come down. That's my Deal of the Week.