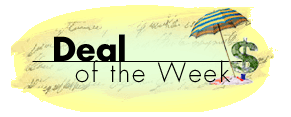 May 27, 2000
Two-fer to Portugal
What comes to mind when I say, "Portugal"? Beaches, perhaps? Lazy days in the sun? Great wine, great food? Good prices? All of the above are correct, but for a limited time, you can imagine this, too: TAP Air Portugal is offering a great price for a couple of people traveling together.
Here's the deal: Two of you can fly from New York or Newark to the cities of Lisbon, Porto or Faro in Portugal for only $698 total. That's two round-trip tickets. And you're going to want to see the countryside while you're there? So here's where the deal gets even better. Rent a car for up to seven days from Avis for only $1 a day, insurance included. You get that when you book this two-fer deal through TAP. Call the airline at 800-221-7370. The fine print? Travel until June 30th, and stay over a Saturday night
An amazing opportunity to see Portugal. That's my Deal of the Week.