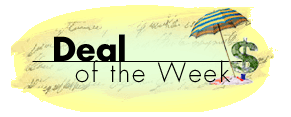 May 20, 2000
Save at Avis.com
Despite the hype, the web isn't always the place to find cheap travel deals. But sometimes it is, and I've found a couple of great deals from Avis for renting cars here and in Europe. The deals are only available if you make your reservation on the Internet.
First, here's the deal in North America: Receive 20 percent off weekend and week-long rentals by going to Avis.com and clicking on the icon that says, appropriately enough, "Save 20 percent on rentals." The discounts are good through June 15th.
In Europe, Avis is willing to give you up to 30 percent off rentals if you book on line. If you click on the link below, we'll take you right to the Eurpean deal. Here's the basic info: Get significant discounts on rentals in Europe through mid-December if you book on line by the end of July.
The web address for up to 30% off on Avis rentals in Europe is: http://www.avis.com/avis_deals/specials/europe_30.html
Remember: Visitors may also be asked to enter the Avis Worldwide Discount number K427400 in the file marked "AWD#."
Cheap wheels from Avis on line. That's my Deal of the Week.