Question of the Week: Travel Talismans (6/8/2001)
Whether it's a dusty road to China or even a laundry mat, a chance, brief meeting can touch your life in a profound way. That's the part of travel that's so exciting and enriching. You never know what you'll discover, even if it's twelve years after the trip.
But, how do you meet people? It helps to have something to break the ice - you know...something to start a conversation. A while back we asked you to call in with the things that you take with you on the road in order to get a foot in the door...help start that dialogue with new people you meet. We got some interesting stories, especially from Judy of Charlotte, whose talisman is a stuffed gorilla named Magill...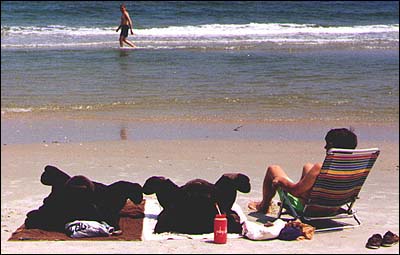 Next Week: First Trips
What was your first trip that you ever took? Come on now, squeeze those brain cells a little extra hard and think of that first time you crossed the city line and ventured out into the world. What was it like? Were you excited or scared, or maybe a little of both?
Maybe it was the first time you went to summer camp, or when you headed off to school. Perhaps you jumped right into it and flew off to a new country, ready to experience a whole new way of living. Tell me about your very first trip away from home. What was it like and how did it make you feel?
Call or email us and share your story. The number is 888-SAV-TRAV. That's 888-728-8728.



Return to Question of the Week Archive