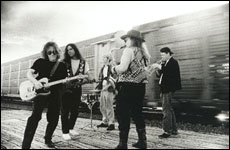 Question of the Week: Top Travel Tunes
This week, we'll hear about listeners' favorite travel tunes. In Tacoma, Washington, Philip works for the Seattle Mariners' triple-A baseball team. He finds himself driving quite a bit, keeping himself awake with tunes by Brave Combo, a wonderful "nuclear polka" band. We decided to call Carl Finch, lead singer and songwriter for Brave Combo, in Denton, Texas. He even sang for Melinda over the phone! You can check out the Brave Combo website at http://brave.com/bo/.
Next Week:
With March quickly approaching, thousands of students across the country are getting ready to head out on Spring break. That time to kick aside the books, say good-bye to mid-terms, and cruise down to a warm beach, or some exotic locale to blow off a little steam.
What was the best spring break you ever had? Where did you head to cut loose, and what happened to make it stand out so much? Call or email us and share your spring break story. The number is 888-SAV-TRAV. That's 888-728-8728.



Return to Feature Archive