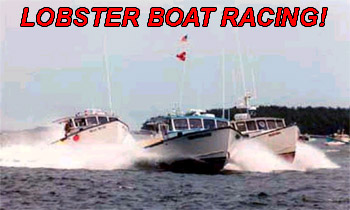 Photo by Steve Curtis, Commercial Fisheries News
This green and blue Earth of ours is 4/5ths water, and, not surprisingly, has a long history of racing boats across those lakes, rivers and oceans. The Greeks sail, the Canadians paddle, the English row, and the Americans are fond of motorboats. But, there are no more ardent boaters than Mainers. Maine has developed its own particular brand of boat racing. Charlotte Renner takes us to one of our most beautiful states to experience one of their oldest summer boating traditions.
Lobster Boat Race

By Charlotte Renner 7/19/2002
If you live in Maine and you weren't born here, people say you are from "away." There's an inherent tension in that distinction, and that tension gets even more pronounced when the natives feel they have to work harder for a living than the non-natives.
You can see that dynamic at any one of the season's eight lobster boat races, which have become popular tourist attractions. So, when I heard from a couple of lobstermen that the races have become unfair because some of the boats are built for speed, not work - and, even worse, some of the racers aren't even fishermen -- I set out to investigate.
The best way to watch a lobster boat race is from a boat. That way, you can get pretty close to the starting line, about a half-mile off shore, and you can listen to the play-by-play on the radio -- including the all important safety warnings.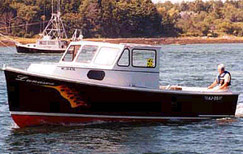 Luna Sea - Photo by Steve Curtis
Allan Johnson used to be a lobsterman, but is now a boat builder. He walks a fine line around here because he builds both working boats and racing boats. From the outside, they look pretty much the same, with a squared-off stern and a boxy cabin, just like on those postcards you get from Maine. But one of his babies, The Luna Sea, is a dragster. It's got a 1,000-horsepower Chevrolet engine.
Johnson: It's an illness. We really need to develop a 12-step program for boat racing, but no one seems interested.
From what I'd heard about the rivalry between old-timers and newcomers in these races, I figured the spanking-new, supercharged Luna Sea was probably owned by a doctor or a lawyer -- certainly, a summer person. Wrong. It's owned by a Jimmy Cleamons, a guy who has been "lobstering" out of Harpswell, Maine, for over 25 years. True, he doesn't catch lobsters with this boat, but he says he has good reasons for that.
Cleamons: I used to race the boat that I fish out of, and I ended up breaking it, and so I said, 'Well, now, I'll have something -- if I break, I can still work.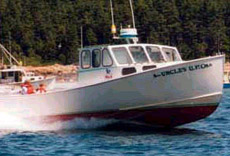 Uncle's UFO - Photo by Steve Curtis
Okay, maybe the rivalry isn't between racers who catch lobsters and racers who don't catch lobsters; maybe it's between boats that go lobstering, and boats that don't. Still, that's enough to get Andy Gove upset. He's 72, and he's got a living room full of trophies. Gove races the Uncle's UFO, the same boat he uses to haul traps, and even though he's got a 900-horsepower engine, on this day, it was no match for The Luna Sea.
Sound: Race results on the radio, announcing Luna Sea as Number 1 and Gove as Number 2
After the race, Gove carves his way through a cluster of tourists wearing T-shirts with lighthouses, and sits down at a picnic table. Over a plate of french fries, he grumbles over his second-place finish.
Gove: The fastest lobster boat I lost to -- The Luna Sea, which is - well, they call it a lobster boat, but it ain't what I'd want to go out lobsterin' in.
Andy Gove has been circulating a petition calling for the creation of a special class of boats that are built only for racing, not working -- kind of a "gentleman lobsterman" class. But here's the tricky thing: the other racers are mad at Andy for souping up his engine. But, he wails, at least I haul lobsters for a living. And, he silently jabs his finger toward a lobster boat tied up at the dock, apparently too frustrated to name it.
He's pointing to the Kelin and to Al Strout, the real estate agent who owns the boat. Strout has a summer home on the coast. He's the kind of guy you'd expect to see with all the other well-heeled spectators watching the races from the dock. But, instead, he has the nerve to compete in his boat -- what he calls his "big-boy toy." He knows he's the butt of fishermen's jokes, so he aims for comedy too, putting decals of bullet holes on his windshield.
Strout: What are they gonna do, shoot me? It's a fun thing.
Like many people who spend their summers along Maine's high-priced coast, Al Strout has plenty of money. But money, it turns out, doesn't guarantee Victory -- what wins are the biggest engines. And, the big engines that don't get worn out on the job are easier to keep in tip-top shape than the ones that do "double duty." That, and not the friction between natives and tourists, is what creates all the controversy.
But controversy is what gives Clive Farrin, the lobsterman who organizes these races, a big headache. So, instead of trying to sort this mess out, he tries taking a diplomatic tack, as he lines up silver and blue iridescent trophies.
Farrin: I can argue either way. I got some feelin' it oughta be all working lobster boats because it's the guys that use 'em to work for a living, and it's a day for them to go play. It'd be like me going out and playing basketball with a professional basketball team, and interfering with their play day.
Here, says Clive, is the truth of the matter: people cheat. At least, some of them do. And, the cheaters come from Maine, and they come from away, and they lie about their engine size so they can win races against weaker competitors. And, it's pretty hard to catch them.
He tears off the check for the grand prize. It's $100 less than the cost of fuel for a floating gas-guzzler. "Bragging rights," he says. "That's what it's all about."