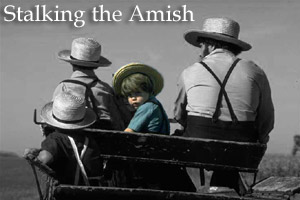 Most tourist attractions are monuments, museums, or wonders of nature -- but what about when the draw is the local people themselves? This week, we're headed to Lancaster County, Pennsylvania, where reporter Michelle Kholos invites us to dinner and a buggy ride in "Amish Country." The locals have learned to tap into the tourist industry, and Lancaster now boasts some 7,000,000 visitors a year gawking at only 22,000 Amish residents. But what really happens when people become tourist attractions?
Stalking the Amish

By Michelle Kholos, 6/14/2002
The first day of my trip, I'm tempted to purchase a pair of salt and pepper shakers, shaped like an Amish couple. They're very cute in that kitschy kind of way and would make a funny conversation piece at my dinner table. But this is just the beginning of my journey. I decide to wait until the end of my trip before making any Amish-related purchases.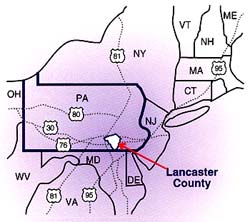 I'm one of 7 million visitors who come through Lancaster every year to check out the 22,000 Amish who live here. I decide to stay at the Lincoln Haus -- yes, spelled H-A-U-S -- which is one of the only Amish-owned B&B's in the county. Mary King is the owner. Because of her Amish beliefs, she can't be interviewed, but Verna, the innkeeper, can. She's Mennonite-Amish, which means she drives and uses electricity, and her standard dress is a bit different than the Amish women. Verna has lived most of her life in Lancaster County and has watched thousands of bus tours go by. I wonder if she ever feels like a tourist attraction.
Verna: Most times not, no, because they're curious but they're not obnoxious. When I was teaching school, I sometimes had people that would come and take pictures, and even then I didn't feel like a tourist attraction because I knew they were just interested. One time only, and that time classes were in session, and he came on the porch with his camcorder at the windows. But that was very, very unusual.
The schools are a curiosity because, through eighth grade, Amish children go to classes together in small one-room school houses. You see them as you drive through the back roads, and I have to admit, it is tempting to go up to the windows to see what the kids in their suspenders and prayer caps are up to.
Erica Shirk: Just look here, this is a little Amish school. This is a typical school boy.
That's Erica Shirk. If you're interested in a private tour of Amish country, you can hire a guide like her through the Visitor's Bureau. They sent Erica with me free of charge for the purpose of this story, but normally the service costs $10 an hour. I'm a little surprised when I get to the Visitor's center and see two gigantic, plastic replicas of jolly Amish people decorating the entrance to the Holiday Inn across the street. They look like an Amish version of Bob's Big Boy, or the Michelin Tire Man. They look suspiciously like the souvenir I've been eyeing. Are the salt and pepper shakers that... tasteless? Exploitive, even?
Luckily, Erica is the real thing. She's a Mennonite originally from France, but she's lived in Lancaster for the past 50 years and really knows her stuff. She gets into my car and off we go to get as close to the real Amish as possible.
Erica: Now, here we go to the left into this farm. Now, this is a farm and they have a big quilt shop, but they also allow us to bring visitors in, and we're permitted to take these people into the barn. You can go back to the left -- there's a big parking lot there.
Like Erika says, the family that owns this farm actually invites tourists to drive up to their home, poke around their barn, and, of course, visit their store. We drive in after a gigantic tour bus, walk into the barn, then make our way into what is, essentially, the garage.
Erica: Now, here you have your typical family buggy. If you want, step up and sit in and see how it feels.
Hmmm...I wonder how I would feel if strangers walked into my garage and crammed into my 1996 Toyota Tercel? We walk past the main house, past the dog languishing on the lawn, past the laundry on the line, and over to the store. I am so sorry I'm not able to record the sound of the Amish woman behind the counter. She is particularly keen on selling me a quillow -- that is a pillow you pull apart that becomes a quilt. It's pretty nifty actually, but it's our saleswoman that's got my attention. This older Amish woman, with her prayer cap, apron and plain dress, could make a killing selling electronics in New York City. I mean, she knows how to work it, pulling apart the quillow, showing off the workmanship, telling me what great gifts they make, and the type of credit cards accepted at the farm.
On the way out, Erica tells me that some Amish families invite visitors to their homes for dinner. You don't exactly pay for them, but you do offer a suggested donation. Since the dinners aren't advertised in any tourist brochure, you've got to ask around to find one. Erika doesn't know any, so back at Lincoln Haus I ask Verna. Sure enough, she sets something up almost immediately. Not bad for folks who don't even have phones inside their houses. Dinner will be at 6:00 p.m. I've got hours to kill on alternate Amish activities. I decide to travel as the Amish travel and take a guided buggy ride.
Tour Guide, Sam: Welcome aboard folks. My name's Sam. I'm actually right here from Lancaster County. I grew up on an Amish farm about 10 miles east of here. Was Amish until I was 25, so I'm what you call a defector, a renegade Amish. So, if you have any questions as we go along, I'll answer your questions. The answers I don't know, I'll make up.
Sam is a tour guide for Aaron & Jessica's buggy rides. Finally, my chance to interview someone authentically Amish -- well, not really Amish anymore. Officially, he's considered shunned, but Sam's family is fairly liberal and still has him over for dinner. I ask if the Amish are annoyed by tourists wanting to ride in their buggies and visit their homes.
Sam: It depends on who you talk to. If you talk to a local farmer on the 'back 40,' he probably wishes you'd all go away. If you talk to a local guy who's making a good living selling crafts and furniture to the tourists, he loves you all. In this area, the tourism has been here for so long they have adapted to it, gotten used to it, and learned to tap in. They're not part of the tourist trade -- they don't own the stores and shops -- but they do sell their crafts, quilts and have roadside stands, so they make money off the tourists also.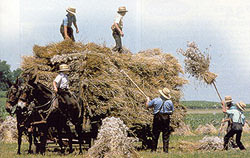 I'm conflicted -- part of me feels like I'm watching a documentary on the Discovery Channel. "Watch as the native Amish do native activities in their native habitat." But the other part of me loves this buggy ride, loves having the opportunity to see how people can live so differently from my life in Manhattan. I'm getting fresh air, the land is beautiful, rich soil and green farmland sprawl for miles. Sam is charming, full of interesting facts and personal stories. There's no way I could have this experience without being a full-blown tourist.
At the end of the tour, I say goodbye to Sam and the horses, and leave for my Amish family dinner. On the way, I worry I'm going to make some stupid tourist faux-pas, but when I arrive, it's easy to feel comfortable. Five kids chase each other around a nice-sized house that really looks like it could belong to anyone I know. There are indoor toilets, Dial Liquid Hand Soap on the sink, knick-knacks, patio furniture, comfortable sofas and family heirlooms displayed. Dinner dialogue is a little awkward and stilted, the way it is among strangers. Once we do get rolling on a subject, conversation is interrupted by cries and comments of the children, especially the littlest one who is clearly the family charmer. We're served fried chicken, apple sauce, mashed potatoes, homemade bread, peas and wild cherry pie for desert. Then the icing -- the entire family crowds together and sings.
(sound) Song begins, then youngest child runs, falls and starts crying.
That's the little one I was telling you about. See, just like any other family. A few more hymns and the harmonicas come out. See if you can recognize this crowd-pleaser:
(sound) "You are my Sunshine" on harmonica.
Then the finale. Everyone joins in singing "Amazing Grace."
We clear the table and turn on the propane-powered lamps. I wonder if I'll be asked to stay awhile, but then I remember what I've learned over the course of my trip: tomorrow, Sunday, is the big religious and social day of the week for the Amish. Their prayer service will be in the home of a community member. It will take 3 hours and it will be followed by a lunch for almost 200 people. There is no donation that will help me gain admission into one of these gatherings. As much as I've seen, as close as I think I've gotten, my experience in Lancaster will always be that of an outsider. The heart of the culture will never be mine for the viewing.
P.S. I never did buy those Amish salt and pepper shakers. Turns out, the real thing was a lot more interesting. From Lancaster, Pa., I'm Michelle Kholos for The Savvy Traveler.
Return to Feature Archive