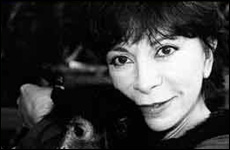 This week, we meet author and traveler Isabel Allende...
Interviews: Isabel Allende

11/9/2001
Like a lot of people, I've been a big fan of Isabel Allende's. Her best-known novel, "The House of the Spirits" wove such an intricate, psychological and spiritual saga. And she's now released her third book in that trilogy, "Portrait in Sepia." It seems all her characters, like Allende herself, are travelers of the world.
Allende was a political exile, forced out of Chile when her uncle was assassinated there in 1973. She quickly laid down roots in varied countries, made her way in different languages, and her characters have followed suit in being uprooted and readily adapting to new homes.
Allende lives just North of San Francisco now. And, although her English is rich and fluent, she says she still makes love in Spanish.
Allende's most definitely a woman of the world. And we started out talking about the impact of living a vagabond life.
Return to Feature Archive