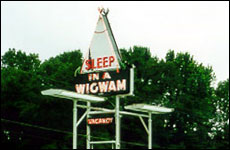 Let's face it, fewer people are flying. And when it comes to travel abroad, many of us are postponing those trips. A lot of people are evidently buzzing around the backroads of America this fall, in search of a quiet few days of escape. Our reporter Naomi Lewin headed down to the bluegrass of Kentucky where she discovered a quirky old motel you could only find in America.
Sleep in a Wigwam!

By Naomi Lewin, 10/12/2001
My first radio job was in South Central Kentucky, where my friend John liked to drive the scenic route. U.S. Highway 31-W used to be the main north-south thoroughfare before the Interstate was built, and I'll never forget the time, as we were tootling along, that John said, "Look! Sleep in a wigwam!" And that's what the sign read that stood guard over 15 white, concrete teepees around a semi-circular slice of lawn. "Sleep in a wigwam." Wigwam Village. Ivan John, the current proprietor, says lots of people stop in who remember driving by with their noses pressed to car windows.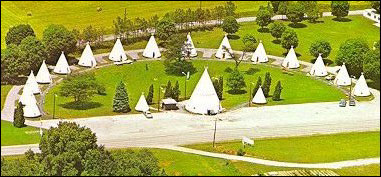 Ivan John is the current proprietor of Wigwam Village.
Ivan: "People often tell us that they used to drive by...they were little children and the parents would never want to stop. And they would cry and say 'We want to stop at Wigwam!' And the parents would say, 'No, we can't...we don't have any time' or 'we're just living next door, there's no reason for us to stop.'"
The place has a devastating visual appeal - and not just for kids. When I lived half an hour away, I had no reason to stop, either, but that didn't keep me from lusting in my heart. As I was planning a trip back down south, the smoke signal went up in my head: sleep in a wigwam! Since it was high season, I called well in advance to make - O.K., you were waiting for this - a reservation. That was a smart move, as I found out when I got in and stopped by the giant office teepee.
Ivan: "Good afternoon, Wigwam Village. No ma'am, we're all booked up tonight. Tomorrow we're booked up, too...we've got a Harley group coming in..."
A Harley group? Turns out that Wigwam Village gets everything from family reunions to corporate birthday parties to...
Ivan: "A couple of weekends ago, this couple shows up, they wanted room #12. I said, 'Hmmm...why?' and they said, 'Oh! It's our 50th wedding anniversary...we were on our honeymoon, and we stayed in #12 50 years ago!'..."
I stayed in #10, and I have to say, for a honeymoon suite, it's pretty rustic. Teepees measure about 18 feet in diameter -- and of course, the walls slant in. (Because of the upside down ice cream cone shape, they're technically teepees, not wigwams.) The furniture is all original, with beds and chairs made of hickory logs. Each teepee also contains a Spartan - but indoor - bathroom.

Originally, there were seven Wigwam Villages, but only two are still in operation. Ivan John is the first owner of this Wigwam Village to claim Native American ancestry. He's one quarter Algonquin, and jokingly refers to a pair of life-sized dolls sporting braids and feathers as "Grandma and Grandpa." They stand guard over the gift shop, which carries both real and fake Native Americana. Best sellers are plaster of Paris teepees made on the premises, each one painted and numbered to match a motel unit.

Mammoth Cave National Park is just a couple of miles away, and summer weekends bring a constant stream of people stopping by. One family included three generations: a man with his mother, his wife, his kids - and his memories.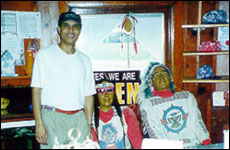 Man: "You'd pull up, you'd see the wigwams, and of course, you're a child, so you're automatically just in awe about it..."
Mother: "Got your coonskin cap on..."
Man: "Oh yah! Had to come in here and get a coon skin cap and a...
Mother: "Tomahawk!"
Man: "Indian Hatchet...you know, just to go with the place and everything."
But there was no room at the inn that night, and pretty soon, we were reminded why. Fifteen teepees' worth of Harley-Davidson owners zoomed up, a little early for check-in.

Of course, as an intrepid radio reporter, I wanted to make sure I got lots of good Harley sound. Members of the Lexington, Kentucky Harley Owners Group (hog, get it?) were eager to oblige.
Biker and Naomi: "You want a ride, lady? Come on, you'll get a real sound then! Come on! Ride his bike! Oh-oh...what are you gonna do? I'm gonna ride this, Lady Public Radio! Better not break my tape recorder! I won't!..."
It seemed like the fitting end to a weekend of Americana: first, sleep in a wigwam; then, ride on a Harley. For the Savvy Traveler, I'm Naomi Lewin.
Biker: "Lady, I don't want to scare you, but at least you could have got on somebody that could drive one!"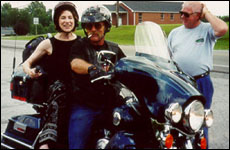 It seemed like the fitting end to a weekend of Americana: first, sleep in a wigwam; then, ride on a Harley. For the Savvy Traveler, I'm Naomi Lewin.
Savvy Resources:
You can find out more about Ivan John's Wigwam Village at http://www.wigwamvillage.com/.
Special thanks to Ivan for allowing us to use his Wigwam Village aerial photo, and to Naomi's friend Erika for the use of her pictures. Winnie Keller of the Lexington Harley Owners Group provided the picture of Naomi on the bike.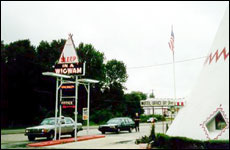 Return to Feature Archive