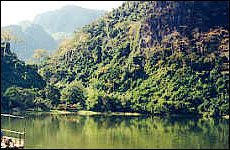 More and more these days it's becoming harder to find those secret corners of the world that haven't been discovered by travel enthusiasts and tour promoters. With each tour bus that pulls into a once unspoiled town or village the cultural experience seems to become more diluted. Contributor Anne Marie Ruff headed deep into the Hilltribe Villages of Northern Thailand in search of traditional healers hoping to find that true untouched cultural and spiritual lifestyle.
Feature: Traditional Healing

by Anne Marie Ruff (5/18/2001)
We have piled into a landrover to spend the next six hours driving to a hilltribe village near the Golden Triangle...the convergence of Thailand, Burma And Laos. Unlike its comfy suburban cousin the rangerover, a landrover is perfect for real travel. It is built and rides like a tank.
My husband and I are joining a friend who is researching traditional healers in the hilltribes of northern Thailand. She has primed us with stories from the Karen ethnic group who were eager to show her their world.
Having an introduction to a world that could never been seen from a tourbus seems like an incredible opportunity. But when we get to our first stop...an ethnic Akha village, it is not quite what we expected.
The tiny old women who are the healers and midwives are polite...but won't tell us much.
Woman, in translation: "We only want to teach our own people. We're afraid that outsiders would take our medicines and patent them."
They say they only want to teach their own people...and are afraid that outsiders will patent their plants and take their medicines.

It is a valid fear...but I am disappointed that our foreign faces are indistinguishable from the foreign faces that would steal their knowledge and profit from it.

The next day we head to an ethnic Yao village filled with stalls selling handicrafts. The midwife here tells us that almost nobody comes to her anymore. A government clinic has been built not far from the village.
Yao woman, in translation: "So they borrow money to go to the hospital. I have to go and sell things."
Our conversation is interuppted as a van pulls up and tourists pile out. The midwife says she has to go sell things. This place has become a frequent stop on the hilltribe tours circuit that has been packaged, promoted and sold in recent years. Thousands of backpackers in birkenstocks have squeezed in 'the experience' between stops in Bangkok and Bombay. And The hilltribe people have learned that backpackers are usually good for a few bucks, as long as the villagers Wear their traditional costumes over their t-shirts and jeans and hawk their handicrafts.

I feel a little cheated...like somehow we should find something more since we have put more effort into Getting here than the tourists have. But the foreign faces are indistinguishable here too...there is no reason why the villagers should believe our intentions are any different from those of the backpackers.

So we continue on in our quest for authenticity and insight. But I am starting to think these things can't be found. Maybe it is no longer possible to have an authentic travel experience of these hilltribe cultures...because the cultures no longer exist. They are only shadows of the past...commercial reconstructions for the benefit of the backpackers and the tour operators. And I figure I am part of the problem...just like all the backpackers. That afternoon, we are off in the landrover again. We arrive in a Lishu village just in time to crash a birthday party. We are welcomed with chicken and rice and local grain alcohol. A few old ladies dressed in traditional Lishu tunics sing a traditional song to my delight.

The Lishu have been known for ages as notorious partiers and at three in the afternoon most of them are so drunk that they can barely speak...and hardly notice as we take our leave.

It is hard to shake the grim feeling that has descended upon our landrover. This seems to be the Lishu's traditional culture...but we feel no more enlightened than we did the day before. And this lays bare my romantic notions of what a traditional culture is. My idea that it must be more harmonious, more spiritual, somehow more beneficial than my complicated, urban industrial culture is just false. But another day and another landrover drive bring us to another village.

High in the hills...marigold and gerber daisy farms cover the steep slopes. In between them is a Hmong village filled with curious children who follow us as we make arangements for the evening. The village headman makes a place for us to sleep in the school and we arrange to buy dinner from the local noodle salesman. The village herbalist answers some of our questions...but tells us that there are some old people who know more. But it's late, and we are all tired.

The next morning someone leads us to the old peoples' house. Old is no understatement, Jong Jeur and his wife Nung Peng are between a hundred and five and a hundred and ten years old...as near as they can remember.

I have never been around people so old. I am struck By how amazing it is...amazing just to be near them. To see how the years have worn their skin and faded their eyes.

They invite us in and their youngest son translates. They are more than happy to answer our questions about their medicines and healing. But they have some questions of their own.
Old couple, in translation: "Are you really from America? You came all the way from america?"
Jong Jeur asks if we are really from america, if we Really came all that way. Yes we really did. And at this Nung Peng starts to cry.
Nung Peng, in translation: "I am just so happy that you have traveled so Far to see us."
She says she is just so happy that we have traveled so far to see them. And for a long time we say nothing. Somehow her eyes...which have seen more than a century pass...have recognized something in us. She is able to see us not as customers...but as travelers. And so we were able to see her not as an experience to be taken...but as a person.

I look around and realize that we all have tears in our eyes. These old people have given us something I was beginning to think no longer existed...an authentic meeting of people from different cultures. And we have reassured them of their place in history by traveling halfway across the world to find them....even if we hadn't known that is what we were doing.
Jong Jeur: "We are the last people from our world...all our friends have died...and our world will go with us."
Jong jeur they are the last people from their world...

I feel priviledged that i have glimpsed their world...so different from my own before it slip away with these elders.

The last village we journey to is ethnic Lahu...it is miles from anywhere and the road there barely exists in places. When we arrive...we are greeted by a young man in a yellow costume who practically shines like the sun. He is a tabu...the village's spiritual leader. And in our honor he promptly organizes a blessing ceremony.

Everyone gathers in the bamboo temple...as candles are lit and offerings are made. All the children gather and seem thrilled about the ceremony. We have made a donation of fruit and money to pay for the candles. I feel a little strange about this. It is only right to reciprocate their generosity...but I wonder if we have begun the selling of their culture with this.

The Lahu have retained their own religion and the energy and charisma of the young tabu seems sure to sustain those beliefs at least through his lifetime. And later a pig is slaughtered and a feast is prepared for the occasion of our visit. But it is hardly grand. The village is dirty and dusty...the children are skittish around us...and no one talks to us.

This is a traditional culture...and it feels like an authentic view of it. It is both wonderful and terrible. It is maintained...not for the benefit of tourists...but because of the villagers themselves. And the energy and carisma of the young tabu are likely to sustain that culture at least through his lifetime. The village both benefit and suffer from their isolation from the more modern thai culture. That isolation means there are no backpackers here...yet. But we have arrived...so who knows how many others may follow. For the Savvy Traveler, this is Anne Marie Ruff in Northern thailand.






Return to Feature Archive