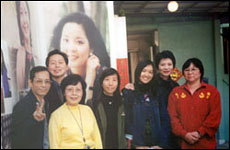 Taiwan-born Teresa Teng was the Celine Dion of Asia. Her music was - and is - popular from Tokyo to Taipei. In Shanghai and in Singapore, people know the lyrics to her songs, and fell in love to her music. Some young Japanese rockers name her as their biggest influence, and soon, there will be a musical revue about her life and her untimely death exactly six years ago at the age of 42. She's a legend. And the epicenter of the legend is her former residence at number 18 Carmel Street in a posh neighborhood of Hong Kong, her adopted home. Judith Ritter Visited the Teresa Teng residence, the Graceland of Asia.

Photos by D.L. Ritter.
Feature: The Graceland of Asia

As a "Graceland," this house is pretty modest. But the courtyard of this mint and lavender stucco shrine is a crush of visitors. A busload of Japanese tourists pose in front of the baby-pink iron gate leading to a swimming pool. Fans circle the navy blue Rolls Royce, and duck for shade under the sculpted, foliaged archways.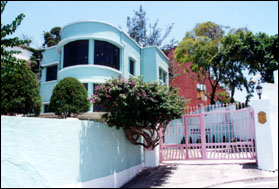 An announcement is made, and people fall into line at the red-carpeted entrance, in that precise and generous way so characteristic of Hong Kong. The fans are sombre and attentive. Kam Mei, once Teresa Teng's housekeeper and confidante, is our guide. She's a sturdy woman - no makeup, a no-nonsense haircut, and blackframe glasses that will occasionally, this morning, fog up with tears as she points to a particularly touching piece of memorabilia. At various points, visitors whimper and muffle sobs too. Followers of Teresa Teng are simply awash in devotion.
Fan: "She touch us because her love song is so affectionate...not a very outgoing type, modest...very very touching...she is the idol of the Hong Kong people."
Our guide Kam Mei, who doubles as a kind of manager of the shrine, fields requests from ill people whose last wish is to visit here...people who are blind who want just to touch Ms. Teng's belongings...and even, she tells me in an aside before the tour starts, people whose esteem for Ms. Teng borders on obsession.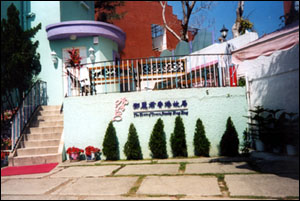 Our first stop is a room with a wall mural of four floor-to-ceiling "Teresas." Each in a different pose, but each singing to the same rose-colored sky. Directly in front of the mural is a pink carpeted stage on which there are four headless mannequins, fabulously attired. One plaster Teng torso is in a black Oscar-night style dress. Another is decked out in a red, full-skirted tulle and satin new years ball gown. Two more wear sequined cheongsams, which are traditional Chinese dresses with high mandarin collars. This display is fanclub member Miranda Chan's favorite part of the tour. She pauses to gaze at the gowns. She seems to be remembering the times when Teresa Teng wore these gowns.
Chan: "Ah yes, she sang a song about her passion for China wearing this dress...and she wore this dress at a concert where she sang 'Mui Fah'..."
Chan first heard Teresa 20 years ago when her sailor father brought back a record from Taiwan, where Teresa was born and began her career. Miranda Chan has thought a lot about Teresa's life. If you didn't know Ms. Chan had a full time job as a social worker, you'd suspect she spent all of her waking hours thinking about Teresa. Chan compares the lyrics of her idol's songs to great Chinese literature, and she describes Teresa Teng's love life as befitting the heroine of an Italian opera. I hear about the lover who was rejected by the family, the one who jilted Teresa, and the French boyfriend who may have seemed fine, but according to all her fans, just wasn't good enough for Teresa.

Our tour takes us for a peek into the kitchen where, according to Kan Mei, she and Teresa spent happy hours cooking water dumplings and hairy crab. We pass by the simple music room with a keyboard and guitar, and through hallways of photo after photo of family, friends, and fans...French boyfriend photo conspicuously absent. Finally, judging by the intake of breaths, the moment we have all waited for...the bedroom.

No one seems to be listening to the tour guide anymore. Men, women, young, old...they are all mezmerized. We all stare at the shocking pink canopy bed with matching satin sheets and drapes...there is also a pink lamp, a pink jewelry box, nine pairs of sunglasses, and headbands...red, gold, and of course - pink. I feel as if though I have ingested a magical shrinking pill, and have stepped into the Barbie Dream House. And then it strikes me that this is no Elvis bedroom, conjuring prurient images of all-night parties and underaged girls. This bedroom is girlish and virginal.

The emotion these fans have for Teresa is chaste, unrequited, romantic. And when I ask people about Teresa, it's as if I have sprung within them some emotional valve. Everybody wants to talk about Teresa and Love...how they love her...how she loved her fans...how the soldiers in the Taiwan army loved her. For Heaman and Ruby Tam, a couple in their 60's, how they love eachother through her music. This is their tenth visit to the house, and each visit resparks their devotion to Teresa and to eachother. But, Ruby confides that at one point, Heaman's affection for Teresa troubled her.
Ruby Tam: "At the beginning, I was jealous - but now since both of us like her, I forgive him."
Ruby tells me that they listen to Teresa each night at bedtime. "Romantic!" I sigh, and without too much prodding, the still lovestruck couple giggle, look into eachother's eyes, and sing their favorite song, "The Moon is Like My Heart." Now into the belly of the beast, the Teresa Teng boutique...
Salesperson: "These are our cd's, photos, there's a key chain, umbrella, tea cup and teapot...and a watch..."


Left to right: Heaman Tam, Robert Lee, Ruby Tam, Miranda Chan, Ivy Chow, Ivy's Mom, Ah Cheung.
This is, after all, Hong Kong, so there are in fact three kinds of watches in the boutique. And oh yeah, not just tea cups and tea pots, but tee SHIRTS as well. All good quality, I am assured. They will last...but I wonder, will the legend and the music last? After all, Hong Kong has its new pantheon of pop stars...Kenny Chan, Aaron Kwok, and Leon Lai...but 17-year-old Ivy Chow is not impressed with them or her peers who just don't get her love for Teresa.
Chow: They say i'm old-fashioned about Teresa Teng. They get annoyed when I call them and put the phone to the speaker to get them to listen. Nowadays, people only care about how a singer looks, but people like Teresa for her music and her voice is so beautiful. Her music is really sweet...my favorite song is 'Tien Me Me.' Should I sing it?"
Cynics - though I met none during my whole stay in Hong Kong - might say the music is "saccharine" and the legend airbrushed. But "sweet" is what everyone else says, and for those of use who are rattle by our own culture - where celebrity is in overdrive and libido unleashed - in this shrine of celebrity restraint, a little unrequited love goes a long way.

In Hong Kong, I'm Judith Ritter for the Savvy Traveler.




Savvy Resources:


You can visit the Teresa Teng Residence at 18 Carmel Road, Stanley, Hong Kong. For more information, email tnt@yahoo.com or call 852-279-87688.

From Canada, fly Air Canada, and from the US, fly Northwest Airlines.

For upmarket accommodations, try the Ritz Carlton in central Hong Kong (email them at ritzchk@hk.Super.Net) or Kowloon Shangri-La ( http://www.shangri-la.com). Moderate accommodations can be obtained at the Salisbury YMCA (call 23692211).

For more information on Hong Kong, visit the Hong Kong Tourism Association at: http://www.hkta.org.

For more information on Teresa Teng, visit Ivy Chow's website at http://i.am/tteng/.







Return to Feature Archive