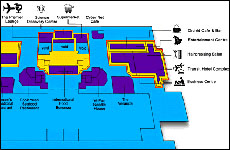 Ever wonder why airports are called "terminals?" How about terminal waiting? Terminally bad food? Endless lines of hapless travelers dragging their squealing wheelie suitcases in The Fifth Circle of Aeronautical Hell - passengers fervently wishing for an out-of-airport experience. But some airports are more than dreary waiting rooms. In the first of a series exploring the world's airports, we look at some stopovers that make waiting a pleasure. Consider Changi Airport in Singapore. As Jeff Tyler tells us, it is a destination in its own right.
Feature: Changi Airport, Destination in its Own Right

I actually look forward to a trip to Singapore just for the airport. I've never seen anything like it. I mean, how often do you hear the sounds of fake birds at an airport?
I'm in the orchid garden, home to a small pond and the soundtrack of chirping birds. It's a tiny island of plants surrounded by a sea of carpet right in the middle of the departure terminal.
For something less serene, let's wander upstairs and take in a free movie.
This is a little theater with a humongous TV screen, tucked away in a dimly-lit corner on the third floor, away from the general bustle. It has only 20 seats. But in several trips to the movies, I never see it full. Perhaps there's a reason for that.
Sound from movie: "Shut up and listen. 4 officers were hit this morning. All DOA. Poorman, Martinez, Vasquez, and Sgt. Chan...I'm surprised you're still alive."
Hey, I said it's free, NOT Academy Award material. Though if I had lots of time to kill, I could watch an Oliver Stone flick in the afternoon, or a Robert Redford spy thriller about midnight.

Gail, from South Africa, has time - 15 hours between her flights. But she's not having a problem keeping occupied.
Gail: "We went on the bus tour. They offer a free bus tour into Singapore city itself. Then you go on a boat trip as well. And it's all free."
Another cool service is the public telephone. No messing around with foreign coins or pre-paid phone cards.
Woman: "Local calls made in the transit area are free."
Tyler: "So you can call anywhere in Singapore for free?"
Woman: "Correct. In the transit area only...once out of customs, in the public area, no more free calls."
And outside of the free-call area, that is to say outside of the airport, I'm less enthusiastic about Singapore. Even though this small island of 3 Million people at the southern tip of Malaysia is a blend of Chinese, Malay, and Indian cultures, the place feels sterile. Perhaps that has something to do with the country's mania about cleanliness. There's a joke that Singapore is a "FINE" city - if you're caught spitting, the fine is several hundred bucks. Throw your chewing gum on the ground...and it'll cost ya.

Frankly, if I didn't need to do business in town, I would never leave the airport. I could sleep right here in the terminal. Two transit hotels offer a place to crash for up to 9 hours. Just up the escalator from the main departure areas, I check out a room in the hotel, expecting a cramped cubicle where people are stored like lost luggage.
Tyler: "It's much bigger than the hotel room I stayed in in town."
A queen bed, TV, and a spacious desk in a room with a shower costs 40 bucks US for six hours. More for every hour after that. It's 25 dollars for a small room with a shared bath. That might be the way to go if I wasn't interested in sleep, and just want to use the hotel facilities.
Hotel Manager: "We have 2 hotels here. The hotel at Terminal 1 has a swimming pool. And at both sites we have sauna facilities as well. In Terminal 1, we also have a gym, for people to do some work out."
Or I could give someone else a work out and pamper my tired muscles with a massage. That's what John Baker is doing. He's passing through Singapore on a 72 hour business trip. For a half hour, he's in heaven as he reclines in a comfy leather chair with his grey slacks rolled up to his knees.
Tyler: "And what are you doing right now?"
Baker: "Just getting a foot massage before making a 20 hour trip home."
Tyler: "And how's it working for you?"
Baker: "So far so good...A little bit of pleasure in an experience that typically isn't so fun."
Not to sell Singapore the short, the city is a great place to go shopping. It ranks up there with Hong Kong in terms of cheap electronics. But if you're short on time and don't mind paying a little more, you can, like our friend Mister Baker, go on a spending spree right here, in one of the airport's hundred shops.
Baker: "Here you're hard pressed not to be able to find something. There's just such a variety. From every brand name in clothing and electronics you can imagine."
It's basically a shopping mall. There's the standard stuff - clothing, perfume, jewelry. But wondering around, I also find a supermarket, a wine shop, several toy stores, and one place devoted to soccer memorabilia.

And of course, every imaginable kind of electronic do-dad. The prices are cheaper in town. But I just need a electrical surge protector for my laptop. And I know just where find it at the airport.
Tyler: "World travel plug set, modem shield...surge protector. Here we go."
Tyler: "How much is it?"
Sales girl: "29.95, sir...Thank you. Have a nice day. Bye-bye."
Mission accomplished, I can now sit down at one of the computer desks provided, plug in my lap top, and go to work.

Come to think of it, maybe that's one convenience this lazy writer could have done without.

In Changi Airport, Singapore, I'm Jeff Tyler for the Savvy Traveler.






Return to Feature Archive