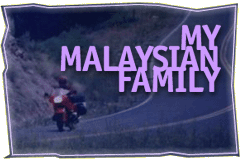 At some point, most of us realized that we will always be our parents' children. Mothers and fathers never stop worrying. As Kristin Post found out while traveling through Malaysia, even when the family is not your own, this principle still applies.
My Malaysian Family
by Kristin Post
It's exhilirating...my first lesson driving a motorbike is at night, on the lonely jungle roads of eastern Malaysia. In top gear, I'm in control, the wind taking my breath away, the heat illuminating the horizon. I am living a Bob Seger song!
My teacher is Abang Li, which means Brother Li, one of the seven grown children of the family I'm staying with. Early on, when they saw me struggle to learn everyone's name, they said, just call us 'Mak' and 'Bak' for mom and dad, 'Abang' and 'Kakak' for brother and sister. .
Abang Li picked me up while I was taking a walk in Mak and Bak's neighborhood. When I left, I assured everyone I'd be back soon. [I know they are worried about the oncoming darkness and my getting lost.] When Abang Li shows up, flashing his gap- toothed smile, I assume that he's been sent to make sure I'm okay. Next thing I know, one of my long-time wishes is coming true - I'm learning how to drive a motorcycle.
The lesson turns out to be a long one. We get a burger and stop by Abang Li's workplace. Still trying to master the low gears, I laugh loudly when we finally pull into his parent's driveway. But my laughter seems out of place. No one greets us, and I realize something is wrong.
14-year-old Zura, who speaks the best English, translates for Mak and Bak. I was gone for two hours instead of ten minutes, she explains. Everyone had been terribly worried. Two brothers had gone out to look for me, expecting the worst. Crestfallen, I explain that I assumed Abang Li had been sent by the family to check on me. "We wouldn't send Li out to teach you how to drive a motorcycle in the dark," Zura says dismissively. Four-year-old Puya won't even look at me. They tell me she asked over and over: " Awak pergi kemana?"..."where has she gone?"
In times of sadness, as in times of joy, Malays will do one thing: eat. Abang Lan, his new wife May, Abang Cai, and I are eating dinner. Cai explains further that it is against a Muslim law for an unmarried man and woman to be out together after dark.
My last night with this warm and open-hearted family is a disaster. "Why are you crying?" Cai asks as he notices my tears. I explain that I am at once touched by the family's concern, and ashamed of my own heedlessness.
I barely get any sleep that night. The next morning, I still feel ashamed, and I stay to myself. The family is gathered around the breakfast table, where newlywed Abang Lan, the jokester, is keeping them entertained.
As he squeezes his eyes shut, opens his mouth wide, and lets out an infant's hearty wail, I realize he is imitating my tears from the dinner table last night. As everyone's laughter explodes, including my own, it hits me. I'm the only one in the room, who thinks I'm only a guest. When they'd asked me to call them Abang and Kakak, Mak and Bak, it wasn't just because it's easier to say. For the time I was with them, I was a member of the family.