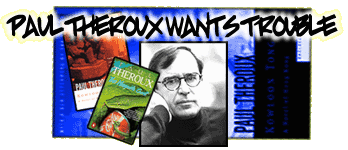 Interview: Paul Theroux Wants Trouble

Okay, on an airplane, you really want to avoid the unexpected - get me where I'm going with no alarms, no surprises, please. But hotels, now that's another story.
Theroux: "I was staying in a hotel in the middle of Tehran, where a man said, 'Do you realize you're staying in the worst hotel in the world?' I said, well, that's the point. I want trouble. There's something to write about here."
Paul Theroux is one of the most famous, prolific and unorthodox travel writers in the world. He once said "tourists don't know where they've been, travelers don't know where they're going." So when you cozy up with a Theroux book like Mosquito Coast or Kowloon Tong you can bet you're not going to be reading a how-to travel guide. Theroux actually began his travel-writing career as a novelist. Paul Theroux's next novel, Hotel Honolulu, is set in Hawaii, and due out this coming April.