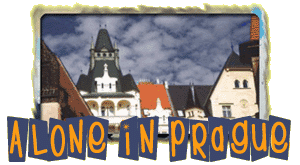 For our third and final story this week of revelations on the road, we go to Prague. Prague was Kafka's hometown and after a few days there, you begin to realize he was probably writing from experience. For one thing, the Czechs of Prague always speak in a very soft voice. Before you know it you feel every conversation is full of unknown implications. Talk about subtext: the subways are strange here, too. There are no turnstiles or ticket checkers. It's an honor system. You never know when, if ever, you'll confront a stranger who wants to see your ticket and judge if you're an honest man. Also, the steps of the escalator go slightly faster than the arm holds. As you move up or down, you realize you're slowly being stretched and re-shaped to life at a 45 degree angle. Everyone riding in the opposite direction looks equally askew and surreal. Finally, every citizen in Prague of a certain age has three names: The Czech name they were born with; the German name the Nazis gave them; and the Russian version they got when the Soviets kicked out the Germans. And all identities are alive, because history here, dead center in the middle of Europe, straddling East and West, never dies. Scott Rosenberg went there in search of his own identity and tells us what he found.
Alone In Prague
by Scott Rosenberg
Prague at Christmas is depressing and bizarre. You've got the horribly gray weather for starters. It's cold and everyone's face is buried under a scarf or behind a high collar. Red noses and furtive eyes poke and peer in the semi-dark of afternoon.
On the streets, babushkas line up quietly, where men pull slow, live carp from huge bins of slushy water. The tradition was to take a live fish home and keep it in the bathtub until Christmas dinner. But now, most people have the fish beheaded and gutted there on the street. Fish scales lubricate the sidewalks and reflect the glittery holiday chintz from store windows.
Being a Jew from Southern California, albeit a Jew who celebrated Christmas and Chanukah growing up, I was hardly attached to the trappings of the holiday. Without snow or Christ, it was pretty much Thanksgiving with presents. But as little as Christmas might mean to you, it means that much more when you do it alone. Which is exactly what I was about to do.
Then, at the last minute I met Nancy, another Jewish expat with no holiday plans. We decided a Chanukah service in the old Jewish quarter would be the definitive anti-Christmas cure.
Dusk fell on Christmas Eve and Nancy and I met at the famous clock tower in Staromenstra, the old town square. She'd brought along Ana, a Jewish student of hers. I was comforted by Ana's brown hair and heavy shoes, which looked exceedingly Eastern European Jew to me. We headed over by foot towards the former Jewish Ghetto turned tourist attraction.
The service was set in a tiny temple that had just two rows of benches on three sides facing a plain cabinet, which I figured must contained the Torah. I grabbed a yamukah, and found a seat. Nancy and Ana were led into a room behind us; a sort of observation booth. I realized this was an Orthodox service, my first.
It was a pretty do-it-yourself affair, with a noticeable lack of explanation or assistance, much unlike the liberal services I attended as a kid, where they walk you through and coat it with politics and social consciousness. I kept quiet and clutched my book, which had the disturbing feature of being in Hebrew with German side notes.
Everything was completely foreign. There were men bobbing up and down, chanting simultaneously, but by no means synchronously. Over in the corner, two guys were arguing just below the level the of the cantor's voice. People were singing, not signing, sitting, standing, dancing, swaying. Slowly, as I relaxed into it, I began to see the whole thing as having the chaotic, kinetic energy of a musical event, and the informality of a barbecue. Except for the separation of men and women, that was the way I wanted my group religion to feel.
The choppy lyricism of the Hebrew language triggered a nostalgic warmth. The faces around me started to look familiar, familial. It was exhilarating, the feeling that I have a people. Especially surrounded by so many non-Jews in Europe. I realized that feeling is there for me, at any point in my life.
I went to wait at my usual bus stop to head home, still basking in the glow of my religious high. After a long time, a small group of people gathered, and a long time after that, somebody muttered something to the crowd about an orange sign. Everybody moaned and the whole group started off across the street.
We settled at a bus stop that looked only vaguely familiar to me. I deciphered the sign enough to figure out I needed the special night holiday bus #509 to get me home. Shortly after, a bus came rumbling by and I hopped on.
Gliding past entirely unfamiliar nightscapes on a half-empty bus, it didn't take long to realize I was on the absolutely wrong line. The #505 as it turned out. My only hope was to ride it to the end, then take it back and catch the right bus.
Once we got to the end of the line, the driver made a motion for me to get off the bus. For 20 minutes I stood in the freezing cold while he sat in the bus and smoked.
By the time I found my way home, it was midnight. I made a too large dinner and played the TV too loud. At some point I realized this was my Christmas dinner. I celebrated by finishing the last drops of my hot sauce, which I'd been superstitiously saving. I rewarded myself further by leaving the dishes unwashed in the sink. Lying in bed, I realized that the dishes, instead of presents under a tree, were the only thing I'd have to look forward to in the morning.
The holiday memories of Chicago writer Scott Rosenberg. There are about a thousand Jews left in Prague, survivors of a community that was one of the largest in Europe. Their cemetery looks like an earthquake still in progress, its tombstones tossing and jutting from the buckling ground. A short walk away, a small museum shows drawings of flowering trees and bright blue skies done by the children of the ghetto before they were swallowed by the concentration camps. This year, the start of the holiday they once celebrated, Chanukah, and Christmas fall on the same day. Not so much a coincidence, really, as a concurrence of two different calendars, one centered on the moon, one on the sun, as their separate cycles bring them together and draw them apart. So, this time, at least, on the same day, in the same breath, and with the same wish for happiness, health and peace, Merry Christmas, Happy Chanukah, and happy travels near and far...