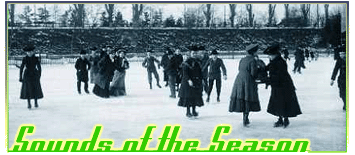 Sounds of the Season
by Manisha Aryal, Tatiana Harrison, and Cash Peters
You're on a Journey with The Savvy Traveler. I'm Tony Kahn.
Sometimes, the best way to see a country is as a family. Later on, we'll let an American family that lived in France for five years introduce us to the everyday tastes, smells, thoughts and feelings of Paris. But first, a little travel for the ears.

Bogati: "I am Father Bogati. I come from western part of Nepal, a place called Ghurka, and I became a Christian when there were total restrictions to become a Christian. In those days there used to be many Christians in jail and many have spend ten twelve, even fourteen years in jail. But now things have changed since democracy. Things are better. We can practice our faith. We can celebrate Christmas with a new meaning. There's a tremendous joy among the people.
We go even Christmas caroling. We visit many families. We go house to house singing Christmas carols. So obviously we'll sing all those traditional carols, translated in such a way that it has Nepalese flavor. But also, some of them are made into our own tunes."
We're in Nepal and this sound, taped by producer Manisha Aryal, is not quite what it seems. In fact, like some of the most delightful discoveries in travel, this seemingly familiar holiday sound has a meaning of its own.
There's one thing a lot of us take for granted about Christmas, besides the gifts and our unheard of prosperity as a nation, the image of a white Christ child. The truth is that, in its own travels around the planet, the Holy Family often comes to look like the people they touch. In 16th century Mexico, for instance, the Virgin Mary appeared to a peasant named Juan Diego in the image of a mestiza, half Indian, half Spanish, and unnervingly serene. And that's the image she's kept, as the Virgen de Guadalupe, ever since.
Further south, in Central and South America, Christ himself has been burned by the sun and the suffering of the people into the Cristo Negro, or Black Christ. Though, as Tatiana Harrison learned, getting a believer to sing about him to an outsider is not easy.
Tatiana: "I might have known better than to go to a pena, the Peruvian show that promises a night of 'traditional' entertainment. I certainly wasn't prepared for the pleading I had to do to get them to play 'Navidad Negra'.
'That's a sad song', they said. 'People come here to dance!' Finally, I used my worst gringo accent on Pepe Vasquez, a famous Afro-Peruvian singer, until he agreed.
So I patiently suffered a series of embarrassing numbers. Pepe teaches the demure blond to bump and grind. The cook is called out to dance and just as quickly disappears.
But Pepe's face turned serious as he finally began to sing of a baby Jesus born among the blacks.
Waiters circulated as Pepe cautioned baby Jesus not to come down from his altar lest he get whipped by his master. The cajon, a plywood box, kept time as Pepe sang that the black face of the baby Jesus was the only comfort in slavery...
Listening now, I think that while the bible says God created man in his own image, what you see when you travel is that it's the other way around.
Speaking of the different religious opinions and beliefs, there's no better man to give your worldview a work out than Cash Peters. This week, Cash tells us about a whole new way of approaching the holidays by hitting them head on.

Cash: "That's the real sound of the holidays in L.A.. Beauty and the Beast played on a comb and paper. They had to build an ice rink in Pershing Square just so people could skate to it. Manager Michael McGuire:"
Michael: "The city is trying to bring the identity of the community back to down town Los Angeles. We bring in the ice rink every year from November 15 to January 15. We are like Rockefeller Center of New York City."
Cash: "Except that this is Los Angeles and it's hot and most people don't know how to ice skate. All that screaming and falling and bodies scrambling over each other* Oh, the horror."
Cash: "Can you skate?"
Hapless Skater #1: "No."
Cash: "Is this the first time you've ever been on the ice?"
Hapless Skater #1: "Oh, no. I've been on the ice before. I just don't claim to know how to do it."
Cash: "Why aren't you on the ice?"
Hapless Skater #2: "Well, actually I was on there for about 15 minutes, but I kept falling so that was about it."
Hapless Skater #3: "Why am I not skating? Because I don't know how to skate."
Cash: "Where's your sense of adventure, woman?"
Michael: "We don't have that many injuries. We really don't."
Cash: "How many times have you fallen over?"
Hapless Skater #4: "I don't know. Maybe ten?"
Michael: "The rare occasion, worst case, somebody may be breaking a bone. You've really got to hit the ice pretty hard for that."
Cash: "That looks so painful."
Hapless Skater #5: "Which one?"
Cash: "You've fallen over more than once?"
Hapless Skater #5: "Yeah."
Cash: "Ah. The holidays in L.A., where falling and breaking your hip is only the beginning."