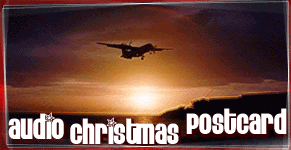 Audio Christmas Postcard
by Geo Beach
Dear Rudy and Tony,
Well. it's hard to wrap a present in a postcard, but here goes.
I just made it back home from one of those sea-to-shining-sea trips: State of Maine to Washington DC to Washington State to right here on Main Street in downtown Homer, Alaska. And along the way I picked up a special gift.
OK, here's the picture part of the postcard:
The jet's contrail decorated the countryside, unreeling like a ribbon across the night sky, with the mighty cities of the Midwest strung along the starboard wing, ornamenting a great green continent. The red strobe flashed against the night sky like a lonely electronic Rudolph, Rudy. Then in a blue necklace of taxiway I was one airport closer to home.
Home. That's the funny thing about travel - it's all about home. You gotta leave home without it - without the home - then you've started traveling. Doesn't matter if you can't go home again - to a particular physical place. If you're a real traveler, then you've made a sublime substitution of spirit over matter. You've said Home is where the heart is.
All year long I watch people at airport gates and rental car counters and train platforms. Man, they ain't traveling, they're just crating up their bodily parts and all their stuff and moving it from one place to another.
But this time of year is different. And here's the present I found, I don't need to keep you in suspense until the very end for it to work: People wish it different, and the wish comes true.
When you walk down the jetway at SEATAC at Christmastime, you'll see an otherwise nondescript businessman light up as he's festooned in a wreath of hugs when his family surprises him at his late-night arrival. You'll see a woman walking through Union Station with a box with a bow and her eyes are shining with a child's joy, and you know the box is for her daughter. As she anticipates the giving, she sheds off all the years of her workaday world, right back to her own girlhood.
Of course it couldn't be this way all year long. That's not the way magic works. But it does happen, right now, and that is magic.
Wise men travel and they bear gifts. Here's the one that fits on a postcard:
I wish you a Christmas Wish, Rudy. And you too, Tony. A wish you know will come true. You can unwrap it when you get home - or wherever in the world your heart travels to.
Then pass it along to the next traveler. And Happy New Year,