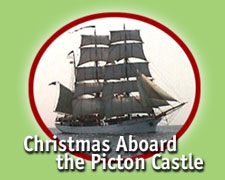 Christmas Aboard the Picton Castle
by Todd Jarrell
It was a brilliant day - sunshine speared mesmerizing shafts into the blue sea on this, my second Christmas of an around-the-world voyage aboard the tall ship PICTON CASTLE. The first was in the Caribbean, and then, having just sailed from Canadian snows, Christmas seemed right on time. But one year later, crossing the steamy Indian Ocean, Christmas seemed continents away.
Near the hundred-foot tall mainmast stood our little Christmas tree, shackled against wind and the roll of the ship. Hand-made gifts were stacked and gathered underneath, wrapped in newspaper, magazine or canvas - all bowed with sail twine or ribbons cut from the ragbag. We distributed these most eclectic presents - the gifts of a sailor's life: etched bone bottles; exotic bits of stone or lava; fancy rope and canvas work.
As dinner was served, two shipmates played a pleasant recital. Toes tapped and the ship swayed along. Ocean swells licked at the hull of the ship as we cleaned our plates. It was comfortable and peaceful and... right.
I will always remember that special day, and in years to come, when others begin singing for a white Christmas, I will be dreaming of my blue one.