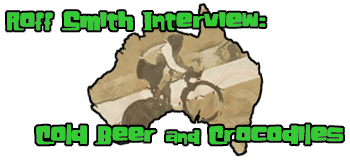 Roff Smith Interview: Cold Beer and Crocodiles

Smith: "Eventually, I reached one of those crossroads in life where you're obligated to stop and take stock. What I came to was this: I would soon be 38 years old. If I was serious about returning to America, I should do it now. If I was going to remain in Australia, I should find a better reason to do so than shrugging indifference."
We've all reached that point in our lives where we wake up one morning and ask: "What am I doing with my life?" Former Time Magazine correspondent turned author, Roff Smith, was an expatriate living in Australia when he found himself looking into the mirror asking that very question. He decided to head out on his bike to get some answers. Roff's search led him around the entire continent of Australia, some ten thousand miles*all on a bicycle. You just heard an excerpt of his book, Cold Beer and Crocodiles: A Bicycle Journey into Australia, in which he wrote about his life-changing adventure. He joins us from London.