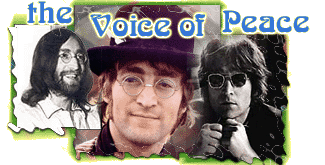 Do you remember what you were doing when you heard John Lennon was shot? Nearly 20 years have passed since the singer's death. Writer Hank Rosenfeld tells us about a trip that was sparked by the news that December night, and how Lennon's music has touched him in his later journeys.
The Voice of Peace
by Hank Rosenfeld
On December 8th, 20 years ago, I was on the road near the old train yards west of Syracuse, listening to Marianne Faithfull on the car radio, and singing that song, "Working Class Hero," written by John Lennon.
"You're still f---ing peasants as far as I know," and then I hear John Lennon got shot.
So a week later, I'm with my girlfriend on my way to that big memorial in New York City, coming down the Mohawk Highway in a blizzard snowstorm. Every radio station is playing Beatles, up and down the dial -- the AM side too. All these Beatles songs like snowflakes sung down from heaven.
We get to Manhattan and go to Central Park, Sunday gathering, hundreds and thousands of us with Yoko on the cold grass. We're all singing "Imagine" together, and there are choppers overhead like there's a war and we're losing, you know? But if we keep singing together we could win, right?
After it's over, it starts snowing in the park, I remember, and that feeling, you know?
And we go to see It's a Wonderful Life downtown at the St. Mark's Cinema, and we're feeling so sad and holy. We take a cab all the way back uptown, and the next morning we wake up on 114th Street. Our car windows are smashed, and everything we had with us is gone. All our clothes, records, tapes, jewelry, writing from the entire semester, everything. I'll never forget it.
A year later, I find myself in the Middle East, in the middle of the Mediterranean Sea, on a pirate ship playing records. Pirate radio.
The Voice of Peace: "PEACE IS THE WORD...AND THE VOICE OF PEACE IS THE STATION...24 HOURS A DAY," (the station ID runs every hour). We're blasting rock and roll music out to Israelis and Egyptians and the Lebanese, and they say at night we can reach the Cretans.
So it's December 8th, 1981 and we're playing all day Beatles, an anniversary-tribute-thing on the Voice of Peace. I get to deejay the last few hours, so I play "Working Class Hero" and "#9 Dream." "Rain," "He Said She Said," "Tomorrow Never Knows". I end with Side 2 of Abbey Road, where all those songs run together like one sweet dream. It ends right at midnight, perfectly. I sign off the station, thanking "all the listeners and the spirit that is John Lennon," and then I go up top, to the deck of the ship and sit for a bit in the warm Mediterranean night. Just staring out over a calm sea.
Half a minute later, the greatest shower of shooting stars I've ever seen in my life commences over the -- I guess it must be the starboard side of the Peace Ship. There must be a dozen of them all at once like streamers dropping into the sea. I look up, thinking of those snowflakes a year earlier, and shout through my tears: "Glad you liked the show John! Glad you liked the show."