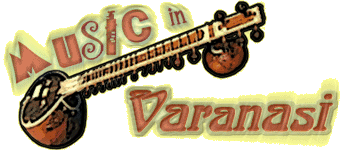 For Hindus, Varanasi, or what was called Benares, is the holiest city in India. Pilgrims come to the city to bathe and pray in the Ganges River. Many non-Hindu tourists visit Varanasi, too. It's one of the oldest living cities in the world and the place to experience Hinduism at its most traditional. Visitors can take small boats out on the Ganges at dawn where the white smoke from funeral pyres obscures the sun, where priests chant and hundreds of the faithful immerse themselves in the holy river. But there's another, less known reason to visit Varanasi. It's a center of classical Indian music. Famous musicians perform, craftsmen make fine traditional instruments and music teachers are happy to give short or long-term instruction in Indian music to visitors. Judith Ritter took a musical tour of this ancient city.
Music in Varanasi
by Judith Ritter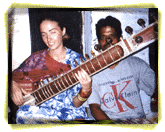 Sitar teacher Bian Misla sits cross-legged in a closet sized room in front of sari clad, Amy Kinneman. It's over 100 degrees and perspiration is dripping off her forehead. Her red glass bracelets jangle as her fingers struggle with the strings of the polished wood sitar in her lap. The lesson is basic and difficult. Sitar takes years to master and Kinneman has never studied any kind of music before.
The California Montessori teacher wanted a vacation that was different. She'd heard some Indian music at home in Santa Barbara and on a whim, decided to spend a month studying music in India.
Every morning she comes to Misla's apartment for her lesson and then back to her rented room to practice. As interesting as the music is, for Kinneman, her lessons are more importantly, a way to get to know India.
Amy: "When I take my walk to my lesson I walk through the very narrow streets of Varanasi. Sometimes I get lost and I end up at my lesson late. The roads are so narrow and all look the same. I continue walking and always have someone tugging on my elbow saying 'baksheesh', or a rickshaw driver saying only five rupees, five rupees. I find my way to my music lesson by noticing the panwalla at one turn, I know I need to turn left there, and know to turn right at the next turn because there's the Hanumnan Temple. Hanumnan is the monkey god and I know to make the next right because there's the woman ironing cloth. I arrive at my music lesson and sit down with the family every morning before I come upstairs to practice."
A few minutes away in another cobblestone alley just wide enough for one person and a scrawny cow or a lumbering water buffalo to pass each other, the steady rhythm of tabla, a drum-like instrument, floats out of a doorway and fills the lane. This is Imtiya Azali's tabla shop.
Inside, a young man in one corner is scraping the fur off an animal skin. Another man stretches a piece of hide across the top of a gourd-like drum and pounds it into place. The shop is the size of a single room at a Motel 6. The walls are green but years of humidity have peeled off patches of color. The master Imtiya Azali sits on a shredded straw mat in front of a pile of goat skins.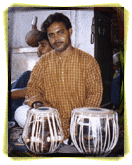 Azali: "This is the goatskin, which is soaked in the water and scraped as you can see there. In the beginning it is mounted and two days it is left. And finally, we put on the cord which is made of camel skin, it is tightened up..."
Imtiya Azali has never been out of India. He doesn't have to go anywhere. The world comes to him. Musicians and tourists come to watch him make these instruments and often pay the 2,000 rupees to display or play them in LA or Tokyo or Paris. The family has been in this business for 80 years. Business is good but Azali would much rather talk about what he calls the grace of god.
Azali: "In fact, my religion is tabla. I was born with tabla. When I grew up, I saw tabla around me. It has become a ritual. Instead of coming to a mosque, I come to this place and it is just like praying to Allah or God while tuning a tabla and preparing it for some famous artist. I feel like I will be heard all over the world."
At least a few of those tablas will end up being played by students here at one of Varanasi's most prestigious music schools. The International Music Ashram is a crumbling 400-year old building on a street lined with knee high piles of coal and okra in baskets. An odd cow grazes on a rotted cucumber that's bounced off some vendor's cart.
Uneven stone stairs in an dimly lit hallway lead up to a collection of rooms where for 40-years, the Kevash family has been teaching tabla, flute, singing, sitar and dance to tourists, who are often surprised by how different studying music is here, says Kevash Rao Nayak.
Kevash: "When they learn it in their own country, they have rule and regulation. But in my ashram, when they come, they come as a friend and they stay here. They have tea. They talk with us. Slowly they start. Tell them 'This is the left hand, This is the right hand.' Then slowly we teach them how to do it."
To say the school has an informal atmosphere is an understatement. Keshav Rao Nayak is lying on the floor in a Stanley Kowalski undershirt, a white dhoti tied around his waist and his head propped up against the once whitewashed wall. He's sweating. His brother, a man with a big black mustache, has just come into the room and flopped down beside him. Student, Isamu Hata, a young man from Japan, is also lying on the floor and is also sweating.
Isamu: "The weather is too much. Forty-eight degrees, 50 degrees. It makes you crazy. Benares is so attractive. Everything is extreme. Benares is a very powerful place. Here I feel more free."
The teacher, Kevash, recommends tabla for short term visitors, sitar and dancing for those with a little experience or a little more time on their hands, and singing? Well, that's another story
Kevash: "When you sing in your country, when we listen, we can't understand what they are singing. We just think you are shouting when they come to India. Our songs, it is very hard to understand our melody."
Hard if not impossible for the neophyte to understand the melody, the teaching style, the openness of famous craftsmen and musicians. And yes, It's hard to bear the heat and dust. But for visitors who come from celebrity and expert cultures like ours, the most surprising of all is experiencing the respect granted even the most reluctant and ungifted first time musician, the grade school glee club reject.
In Varanasi, India, I'm Judith Ritter for The Savvy Traveler.