If you saw the movie Trainspotting a few years ago, you may recall the story of some drug-addicted young people, or maybe a good music soundtrack, but very little about trains. Well, trainspotting is all about trains and the people who watch them. It's a pastime where people stand around a railroad station for hours, in all kinds of weather, writing down numbers of passing railroad cars. And lately in Britain, the activity's popularity has been growing. Now either the people who do this are absolute loons, or we're missing something. We sent Martin Stott to check it out.
Trainspotting
by Martin Stott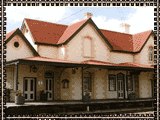 This is York Railway Station in the North of England, it's one of the biggest in Britain. It's bucketing down outside and the cold wind blowing along the platforms goes right through to your bones. But it doesn't seem to be distracting a group of people in the distance standing out in the rain with their notebooks, pens and packed lunches.
Spotter: "12209, 12400, 12402"
This spotter's had a good day bagging numbers, he lets me peek at his notebook.
Spotter: "12409. Standard class coaches, those, and 11204."
It's gripping stuff. This guy's been here several hours just taking down the numbers on the sides of passing trains. Others are catching them on video so they don't miss any digits as the carriages speed past. The spotters buy books full of train numbers and tick off the ones they've seen. But why?
Smith: "We'll I don't really know. It gets you out and about instead of stopping indoors No matter where you go, there was someone else there, you can guarantee that. We've been at places where come around one o'clock, a car will pull up and a businessman will get out and spend his lunch hour there."
Now I know what you're thinking. We Brits are mad. But it's not true. We aren't all like this. Most of us here think these people are weirdos too. And the spotters know it, they just don't care...
Less than a mile from York station and more signs of railway madness..
Richardson: "This is an old guard's stove; items of uniform, some old Edwardian signaling equipment here, those are glock bells."
This is Collectors corner: people from all over the country come here to buy railway memorabilia.
Richardson: "Lots and lots of old lamps, maps, mirrors, more cast iron sides."
But when I suggest to the manager Kevin Richardson that it's a trainspotter's heaven, he's quick to correct me.
Richardson: "I suppose you could describe it as that, you could describe it as an enthusiast's heaven, really. Trainspotters--Trainspotting is an activity that is sometimes redolent of the well know anorak syndrome, as I'm sure you know"
An anorak is Brit speak for the yucky nylon coat with zip and hood that's de rigeur fashion for most spotters, so let's get this clear, I'm not an anorak, but I'm afraid I am an enthusiast. I love trains. Which is why, I have to confess, I left Collectors Corner with a 1930s cast iron railway sign under my arm. It says: "Shut the gate. The penalty is forty shillings for leaving this gate unlocked". It now takes pride of place at the entrance to my garden. My wife is very tolerant. And now a second confession. It was my idea to cover this story from York. And this is why.
Museum Guide: "Well, Martin, I'd like to welcome you to the National Railway Museum here in York. At the moment we're actually standing on the footplate of Mallard which was quite a rare and privileged place to be."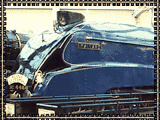 And don't I know it. The Mallard is a huge beauty of a steam engine, the pride of the Museum's collection. It's light blue with an unusual, elegant sloping front, back in 1938 this giant broke the world steam speed record, a record that still stands today. Camilla Harrison from the Museum tells how an unusual feature was fitted to the engine so that once it started getting too fast the driver and fireman would literally smell danger, peculiarly the scent was of violets.
Museum Guide: "They knew if they smelled that aroma, they only had a few minutes until the whole big end would collapse. So at 124 miles per hour Joe Duddington smelled this aroma of violets, and instead of shutting down that engine like any normal common sense person would do. He actually opened the regulator just a little bit more, and said, "Come on girl, you can do it."

Duddington: "Go on old girl, I thought, 'we can do better than this' so I nursed her, and in the next 1 1/2 miles the needle crept up further--123 an hour, 124, 125 and for a quarter of a mile, while they tell me the folks in the car held their breaths--126 miles per hour; 126, that was the fastest steam locomotive that had ever been driven in the world."
That was the driver himself recorded in 1944
If you haven't had enough yet, there's one more railway attraction in York that you mustn't miss: the model railway museum.
It's one of the biggest in the world, miles and miles of track, dozens of trains running round, millions of tiny moving models and scenes of the seaside with real seagull sounds.
People, villages, towns, farms, coal mines, working fairgrounds, airports, there's everything here. The boss, William, got his first train set when he was just 6 yrs old. That was in 1934.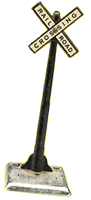 William: "There's three generations of modeling. You get a model railway as a toy when you're young. Then as a father you tend to introduce it to your children. As a grandparent you start to do it a bit more seriously and a bit more accurately and with a bit more detail. You get bored, in the end, just driving a train around a track."
The three ages of man: through the eyes of a railway modeler. Now if this has all whet your appetites lads, but you don't think you can swing it past the missus, here's some ammunition. York is one of the most beautiful medieval cities in Europe; you've got the centuries old Minster church with its beautiful bells, the city walls, the castle museum where the infamous Highway Man Dick Turpin was imprisoned; there are romantic boat rides down the river, an hilarious evening ghost tour and some nice shops. I've had a great weekend, and so's my wife. And now if you'll excuse me, the Edinburgh to London train's due through any minute and I've got some numbers to catch.
This is Martin Stott, trainspotting on York Station, for The Savvy Traveler.