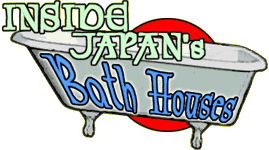 Two of the biggest complaints about traveling in Japan are that it costs too much and that with all the modern trappings, it's hard to find anything nowadays that actually "looks" Japanese. Both of these charges unfortunately, are largely true. But as Lucy Craft discovered, there's one place that traditional Japan can be sampled at a bargain.
Inside Japan's Bath Houses
by Lucy Craft

The Japanese muzak is medieval, but it couldn't be more appropriate. For here at the Moon bath house, one of about 1,400 public baths left in Tokyo, scores of locals will filter in from late afternoon to just after mid-night. They scrub, soak and catch up on the latest gossip just as Japanese have been doing over the last 400-years.
Here in the world's second richest nation, nearly everyone has a bath or a shower installed at home nowadays, but that doesn't stop this elderly woman and her pals from carting their towels, soap and scrub brushes to pass a leisurely hour.
Lucy: "Do you come here every day?"

Woman: "Yes, I have to. Every day."
The English word "bath" doesn't really do justice to the simple, sublime luxury of a Japanese bath. This particular neighborhood bathhouse, built in the 1950's, sports a dramatic ceiling of solid cypress, the signature bathhouse smokestack and a tiny garden. Just after ducking through the hanging curtain entrance, you hang your shoes in a small wooden locker and pay an entrance fee of about three dollars.
The ever-rising user fees put many patrons' teeth on edge and make a mockery of the word for bathhouse, which in Japanese means "penny bath". But in fact, admission to a bathhouse is still a bargain by today's standards and costs less than a cup of coffee in many cities' cafes.

Mixed bathing used to be common several generations ago, but nowadays men and women part at the door to disrobe in separate changing alcoves. There are other concessions to modern times. Not so long ago, bathers stored their clothes in bamboo baskets. But the basket makers died out, and with them, another Japanese tradition.
The bathing area itself is a spacious tiled room filled with steam. Etiquette demands patrons crouch on little, tiny stools to meticulously and energetically wash themselves outside the bath first before actually getting in for a soak. As in almost every bathhouse across Japan, a giant mural of Mt. Fuji dominates one wall.
Bob: "Bathing is a very important part of Japanese life."
Journalist Bob Neff, a bathing enthusiast, has recently compiled a guide to bathing resorts.

Bob: "It's very family-centered. Fathers often take baths with their children. Japanese would never think of letting a day go by without getting in a bath. It's part of the culture. Soaping down, rinsing off and then sitting in fairly large tubs, sort of like a hot tub in the United States, and relaxing is an important part of life."
Neff prefers the pleasures of bathing at country hot spring resorts, which dot every corner of this volcanic land. Neff first laid squeamish eyes on a hot spring when he was still a teenager back in the 1960's.
Bob: "I go to hot springs mainly to relive the nostalgic days of my childhood, but also to get away from the hustle and bustle of life in a big city in Japan."
Geographically only the size of California, Japan is home to more than 15,000 hot spring inns and hotels. The ritziest of these cost upwards of $300 a night.

Bob: "It's relaxing. The warm mineral water is soothing. It's almost like being in your mother's womb again. It's very cozy if you go to the right kind of place. Often you can be sitting outside, looking at the beautiful natural surroundings and feeling very comfortable. It's a great way to detoxify and de-stress yourself."
And a great way to meet ordinary Japanese doing what they like best. Despite widespread perceptions that Japanese tend to be clannish, foreigners are a frequent presence at many a bath. One man I know backpacked around the country with his ten-year-old daughter, always ending the day at a local bathhouse. The child, he said, invariably exited with a crowd of new pals of eight to eighty. Friends who bathe together, as the Japanese say, are the closest friends of all.
For The Savvy Traveler, this is Lucy Craft in Tokyo.