What is it that makes meeting strangers on planes, trains, buses and ships so fascinating? Just look at all of the popular movies that have been made on the subject: everything from the heartwarming story of a woman whose last wish is tho return to her childhood home in the "The Trip to Bountiful"...to the suspense-filled tale of planning a perfect crime in Alfred Hitchcock's "Strangers on a Train." But lately, movie theaters aren't the only ones showcasing dramas of chance travel encounters. Currently in New York, there are at least three plays staging similar themes. Jeff Lunden snagged some tickets to explore their appeal.
The Fleeting Intimacy of Fellow Travelers
by Jeff Lunden
Some of the most memorable conversations I've ever had have taken place on trains and planes with complete strangers. Somehow, a sense of shared adventure, combined with the relative anonymity of travel, can make for a kind of fleeting intimacy on a plane or train ride. Currently, three off-Broadway productions take a look this phenomenon; all of these shows feature encounters on different modes of transportation. Craig Lucas is the author of Stranger, a new play at the Vineyard Theater, near Manhattan's Union Square. Most of the first act takes place on a flight from Philadelphia to Seattle.
Lucas: "There's something about the encounter between new people which is very moving; how they want to represent themselves, the nervousness of trying to win a friend, or make a good impression or make a certain kind of impression. And, uh, anybody who's been on an airplane, most likely, has been at least within earshot of someone who belongs, you know, on a raft in the South Pacific by themselves."
Stranger begins familiarly enough. A man and a woman - strangers - take seats next to each other on a plane and engage in idle chit-chat. The man, Hush, played by noted film actor David Strathairn, says little - he's clearly uncomfortable and clutches a copy of the bible just a bit too tightly. The woman, Linda, played by Kyra Sedgewick, is nervous, too, but she's talkative and outgoing. Over the course of the flight, the conversation between these two characters becomes more intimate, revealing and, ultimately, deeply disturbing. I don't want to give away the plot, but Craig Lucas says his inspiration for this play came from an item that he saw in a newspaper about a heinous crime. He didn't know how to dramatize it until he read a novel by Janice Diener, called "The Body Spoken," which is about two people who meet on a train.
Lucas: "And I called her up and I said 'are you going to hate me if I steal your idea and write a play that has two people meeting on a plane?' And, she said, 'oh, people do that all the time. Don't worry about it.' That opened the door for me -- how to approach this terrible, terrible crime."
The play takes surprising twists and the revelations about characters become, well, stranger.
Lucas: "There's something so intoxicating to people about extremity. Uh, human suffering. The depth of human cruelty."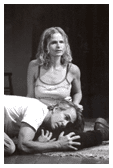 Stranger is not an easy evening of theater - it takes an unflinching look at two tortured souls - but it's compelling and highly thoughtful. The show will be playing at the Vineyard Theater through November 19th.
If you're in New York and looking for a less harrowing encounter on public transportation, you might want to take the subway uptown to the Promenade Theatre, where "The Unexpected Man," by Yasmina Reza, is playing. This two-character play, starring the distinguished British actors Alan Bates and Eileen Atkins, was a smash hit at the Royal Shakespeare Theatre in London and all the action takes place on a train going from Paris to Frankfurt. Ms. Atkins' character of Martha, finds herself unexpectedly sitting across from a famous novelist, Paul Parsky, whose most recent work is entitled The Unexpected Man.
Most of the play consists of internal monologues. While Atkins' character muses about the novelist's art and how it reflects on her own life, the novelist obsesses over everyday concerns, from his digestion to the bitter curl of his lip to the suitability of his future son-in-law to marry his daughter.
For most of this 80-minute play, the question that hangs over the audience and characters is "will-they or won't-they speak to each other?" I don't think I'm giving anything away by saying that they finally do, and the short scene they share at the end of the play is very satisfying. The Unexpected Man has been booked for an open-ended run at the Promenade Theater and, based on the positive critical response, it promises to be there for quite a while.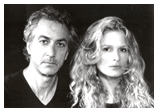 You never know who's going to be sitting next to you on an airplane, but you do know that you'll develop a relationship, however brief, with a flight attendant! Rene Foss, a veteran flight attendant for Northwest Airlines, has taken her experiences and turned them into a cabaret revue, Around the World in a Bad Mood, playing most Friday evenings at Rose's Turn, a small club in Greenwich Village.
Foss: "I had just been flying for about 15 years and I thought, you know, there's a lot of comedy and drama in my job and I always wanted to be an actress. Nobody was hiring me here in New York, so I decided I'll write my own show and hire myself and I'll be the star! As a flight attendant, you're always in situations where you're meeting people that you've never met and you know nothing about them. And, yet, you're in a very intimate, sort of confined setting. You always have really strange conversations; a lot of chit-chat. And there are, uh, recurring questions that passengers tend to ask flight attendants, when they're making, sort of, this idle chit-chat."
Flight attendants need to be ceaselessly cheery, whatever their mood, according to Foss.
Foss: "It's a hard job, it's a lot of hard work. If you're tired or hungry or your schedule gets screwed up, you get in a bad mood. But, I keep my perspective, 'cause now, when I'm in a bad mood, I'm happy! Because, I know it's like more material for the show. So, you know, being in a bad mood really gets me in a good mood."
No matter how you travel to New York City, or what your mood is, you may want to encounter these off-Broadway shows. From New York, I'm Jeff Lunden for The Savvy Traveler.
Savvy Resources:
"Stranger," by Craig Lucas
Through November 19th
The Vineyard Theatre
108 East 15th Street
(between Union Sqr and Irving Pl)
Box Office: (212) 353-0303
Email:
Website: www.vineyardtheatre.org

"The Unexpected Man," by Yasmina Reza
Open-ended run
The Promenade Theatre
2162 Broadway, at 76th Street
Tix by phone: 212-580-1313
Telecharge: 212-239-6200


"Around the World in a Bad Mood," by Rene Foss
Wed. December 6
Fridays, Jan. 19 & 26
Saturdays, Jan. 20 & 27
All shows at 7 pm
Rose's Turn
55 Grove Street
Greenwich Village
Reservations and information: 212-712-8702
Website: www.renefoss.com