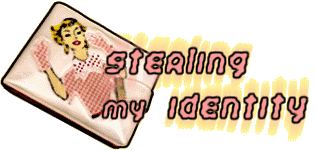 It can be a traveler's worst nightmare, having your wallet stolen. Without money or identification, it can be difficult to make your way in a foreign country and almost impossible to enjoy yourself. But it's not the end of the world as Anne-Marie Ruff tells Rudy in her postcard.
Stealing My Identity
by Anne-Marie Ruff
Dear Rudy,
Eighteen years after my first trip out of the country, I finally had to call American Express to replace my stolen traveler's checks. I was in a crowded Bangkok market when it happened, rubbing shoulders with at least five other people when someone must have reached into my shoulder bag and pulled out my purse. I realized it was missing only seconds later. I probably even saw the person who took it, but it was too late.
My heart started to pound. My breathing quickened. Then I remembered I was in a Buddhist country and the Buddha wouldn't have panicked over some pieces of paper and plastic cards in a black nylon bag.
As the purse-snatcher soon discovered, he had scored. There were $300 in traveler's checks, $200 worth of Thai baht, an American Express card, a credit card, ATM card, an American passport and my address book.
I stood there in the middle of the market, officially a non-person. I had nothing to prove who I was, where I had traveled or where I lived.
After the initial despair of having my identity stolen, I decided it was just part of a process of shedding. Last February my husband and I moved to Thailand, shedding much of the contents of our house in Los Angeles. By June most of my hair, which had been waist long for most of my life, ended up on the floor of a Thai beauty parlor. It is too hot here for so much hair, and the beauty parlor was air-conditioned.
It was also too hot for my gold rings and silver bracelets charged with sentimental value. I even think I was starting to get a fungus under my bracelet.
Some less tangible things have also gone the way of my hair. I have shed some of my fears about risk and failure, my self-imposed limits about what is possible in life and my sense of what is too spicy to eat.
So my stolen purse just seems to be part of this process of shedding.
Reconstructing my official and financial identity was not so difficult. I had everything replaced within a week.
But no customer service line can replace the identity of the person I was before this process began. So here I am, short haired, jewelry-less with 48 blank pages in my passport.
At least my husband still remembers who I am and where I have traveled. And think of all the different countries I can visit before I fill up those blank pages.
But I do wonder who is walking around with "their" picture on "my" old passport and how much did it fetch on the black market.
Talk to you soon, Anne-Marie