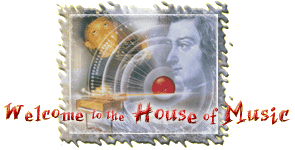 Vienna has long been referred to as the capital city of music. Over the years it has been home to some of the world's greatest composers including Mozart, Beethoven and Strauss. And while there are many concert halls and musical events in the city, there are no museums in Vienna dedicated to music itself. That is, until now. Recently, Vienna's House of Music opened its doors, offering visitors a hands-on, interactive approach to understanding just how harmonious we all really are. Tom Verde takes us along.
Welcome to the House of Music
by Tom Verde
Music, and I mean music with a capital "M," is pretty hard to avoid in Vienna. Whether it's a bit of Mozart in the gilded grandeur of the state opera house or an impromptu tune from the hurdy-gurdy guy on the street corner, music is everywhere here, without question, a part of the city's identity. Exploring where that music comes from, or rather how we're able to create it in the first place, is the focus of Vienna's House of Music. Take, for example, the sea of voices.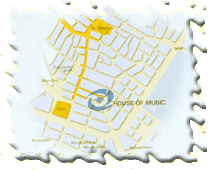 BOCK: "Uh, it's dedicated to the human voice. When you touch the screen, here you have vocals."
Marketing director Susanne Bock guided me through the dimly lit, mildly spooky interior of the museum which from the outside looks like just another Viennese Baroque mansion, which it once was.
Now, interactive, touch-screen computerized displays occupy most every floor, encouraging visitors, says Bock, to learn about the physics of sound and how they translate into the mechanics of music.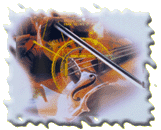 A pair of digitally enhanced folk dancers on a computer screen, for example, demonstrate the effect tempo has on pitch.
BOCK: "We want our visitors to play, and to learn by playing. Here, volume is described with a traditional Austrian dance that is called "Schuhplattler" and you can hear the single sounds when they are dancing very slowly, and with this joystick you can make them dance faster and faster."
As I mercilessly increased their speed, the dancers began to shudder and eventually disappeared, along with the sound of their staccato rhythm.
Down the hall, the Instrumentarium is the place to get a true feel for the terms, timbre and resonance. Here you're invited to get as close as your ears can stand to the vibrating membrane of a drum the size of a small skating rink. Or poke your head into a zither-like sound box that might just fit in the bed of a pickup truck.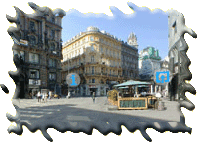 Once you've mastered these and other basic principals of music, you can see how they literally work in concert by conducting members of the Vienna Philharmonic . . . a virtual version of them, anyway, on a huge computer screen where they respond to the motions of an electronic baton. These being world class musicians, however, they suffer neither fools nor incompetent maestros gladly.
There is an entire floor of more traditional exhibits, dedicated to the lives of many of Vienna's famous composers such as Mozart, Haydn and Beethoven. Yet aside from some impressive original manuscripts and the like, there wasn't much information here that you couldn't find in any good encyclopedia. I was also a little disappointed that a place called the House of Music didn't explore the history of music in general a bit more, or at least explain to a musically illiterate guy like me how something like notation was invented. Still, for the $7 admission, it's certainly not a waste of an afternoon . . . and it's cheaper than the price of a CD
Speaking of CDs, if you do visit the House of Music, remember to check out the polyphonium, where you can blend various sounds, music, and your voice onto your own souvenir compact disc. At the House of Music in Vienna, I'm Tom Verde.