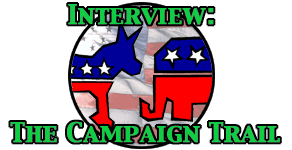 Interview: The Campaign Trail

This is the Savvy Traveler. I'm Rudy Maxa.
Back in the early '70s, author Timothy Cruise wrote a book called The Boys on the Bus. It chronicled the lives of journalists as they covered the presidential campaigns of Richard Nixon and George McGovern. Well, I decided to talk to one of the boys and girls on the buses of this year's campaigns to see what it was like to track Vice President Al Gore and Governor George W. Bush as they criss-cross the country pressing the flesh and digging up votes.
Ceci Connolly is the National Political Reporter for the Washington Post covering Gore. John Berman, a producer for ABC News, is following the Bush camp. They took a break on the eve of the final presidential debate in St. Louis to tell me what it's like for a reporter traveling on the campaign trail.