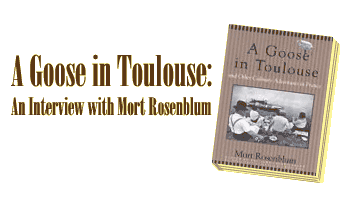 Interview: Mort Rosenblum

When you think of France, food probably immediately jumps to mind. But there's more to France than meets the taste bud. Writer Mort Rosenblum set out to discover the role of food in French culture. He's detailed his eye opening, mouth watering findings in his most recent book A Goose in Toulouse and other Culinary Adventures in France.
I recently spoke with Mort and was surprised to learn that it's not food that is the most important ingredient in French culture. Instead, it's the table and the sense of unity it provides, not only to individual families, but to the entire nation, a nation that prides itself on history and culinary tradition.
A Goose in Toulouse is available from