Any of us who've got kids can tell horror stories of travelling on holiday with them. It seems reassuring to hear other people's nightmare adventures. At least you know you're not alone. So when we heard The Savvy Traveler's Martin Stott, a new Dad, was taking his eight-month-old daughter Emily on her first overseas holiday, we couldn't help being mischievous and asking for a postcard.
Italy with Child
by Martin Stott
Dear Rudy,
Travelling used to be so easy. Dig out the passports, throw a few clothes in a bag and we're off.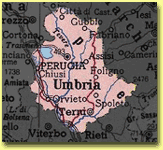 Not any more. I can't believe how much stuff an eight-month-old child needs: push chair, high chair, car chair, bottles, food, nappies, travel cot. And we've got a 90-pound weight limit. It takes a full day to pack, although most of that's unpacking, throwing out all but essentials in a desperate bid to lighten the suitcases. At one point I find myself saying, "Darling, do we need a full pack of bottom wipes, they're awfully heavy?" Emily's things tip the scales at 87lb. That leaves three pounds for adult toiletries. As for the week's clothes, we stagger up to the check-in desk wearing them, layer upon layer. We're sweating buckets but we've made the weight limit. Imagine then our dismay, our contempt, when the steward whisks away our cases without even bothering to put them on the scales.
Airline Stewardess: "All passengers are asked to proceed to gate number 12."
But when we reach Italy, we soon relax. This is Umbria. We've got a lovely villa. Around us are fabulous Medieval towns and Emily is on top form. The Italians go gaga over babies. Emily loves it. She bursts into a pretty grin every time someone sings to her, "Ciao bambina". She's now convinced her name is "Bellissima"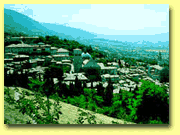 This is a journey of discovery about ourselves as parents, about Emily, whether we can still be travelers with her. Is it possible? Is it fair? Then there are the usual holiday explorations, discovering the region too. And our best find? Not a church, not a painting, but a singing American chef!
When she's not performing in her local choir, Madeline Serio brings gourmet meals to the holiday company's villas, a bargain at $30 a head. Proper Italian cooking she learnt at her Daddy's knee in California.
Madeline: "I've been cooking since I was a little girl. My four grandparents are Italian and my father was a fantastic cook. And, I remember sitting at the table with him and he would show me exactly how to clean a pepper, how to de-seed and use every part without waste. These kinds of things I picked up from him and I love to eat good food."
He sounds like the kind of Dad I want to be. For a couple no longer able to go to posh restaurants, Madeline's service is fabulous.
But there's a price to pay for our decadence. On our last day we head to Assisi, thinking smugly how easy it had all been and what good parents we were. Emily knows when to strike.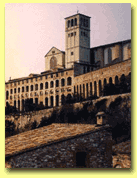 We go into the famous basilica. She lets out an outrageous bottom burp. It's so long and loud a priest comes on the loudspeaker system begging for silence. We scurry out red-faced only to be followed by a little Italian nun who stops and crouches down to look at Emily. There she is, the little monkey, slouched jubilantly in her push chair, legs akimbo, dubious brown stains all over her trousers, which only we know are the remains of a much mauled ice cream cone, dried food smeared all over her face from the lunchtime food fight and frankly, she smells a bit whiffy, too. The nun looks up at me and says, "She's just like her Pappa". Rudy, I was mortified!

Speak to you soon.

Martin