Sometimes, the best part of a trip is the part you didn't plan. JJ Yore and his wife Mary Beth learned that lesson once again on a recent trip to Italy. They were excited about a hotel they'd found in Rome, the city's oldest, a place that has been hosting paying guests for more than 500 years. Of course, we told JJ and Mary Beth to bring their tape recorders and come back with a story. But what they found wasn't exactly what we, or they, expected.
Unexpected Italy
by JJ Yore
It was described in an old guidebook, "Italian Country Inns and Itineraries", as "meticulously restored" with "great historical interest". Still, we hesitated. The place, it's called the Albergo del Sole, cost almost $300 a night. But, we like to stay at a really nice hotel at the beginning and end of our vacations; it makes the trip seem more special. And this place sounded romantic, and perfect for a city like Rome. So, we made reservations for our first and last nights in Italy. We were, like Rudy said, excited.

Our first clue came as we were walking toward the front door. "It doesn't look very historic," I remember saying to Mary Beth. Just another façade in a long row. Still, inside we imagined old stone walls; rich, aged wood; step-worn stairways - you know, things that proved that this was a place dating back to 1467. Instead: plain plaster walls; gray smoked glass doors leading to small, modern rooms; showers with cheap plastic folding doors. We could've been in any hotel, anywhere.
It was a disappointing start to our big Italian vacation.
But a few days later, something happened that changed our entire trip. We turned onto a dirt road near a tiny village, about an hour and a half south of Florence, and began climbing.
JJ: "I don't know how they do this in the winter..."
We kept turning, skidding, slipping. We were looking for a hotel some friends had told us about. But all we could see up and down the steep hillsides were fields of mown grass. We were in the middle of nowhere. And this rutted out road couldn't possibly be right.
Then, finally, we turned a corner and saw, above us in the distance, a grand house, with pale yellow walls and big windows, almost glowing in the afternoon sun.
Sarah: "We made the road so when anybody says, 'The road's not very good,' I say, 'It's better than it was.'"
That's Sarah Townsend. She and her husband Johnny didn't just "make the road." They came here from England... to remake themselves.
Johnny: "There's Cortona over there. You can just see there. That farthest peak, that is about 40 miles. That very far one..."
For much of their life, Sarah and Johnny were a pretty typical professional couple. They married young, in the early '60s, had children. She taught, ran a school, dabbled in art. But Sarah felt trapped in a life that never seemed quite right.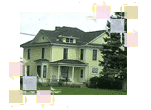 Sarah: "Johnny was a corporate banker. In those days, banking in London was organized around shooting weekends or going to the opera. And then I made a film about the corporate wife in 1987, I think, and I remember thinking when I watched it, 'That's the end of it. I can't do that anymore.'"
So, more than a decade ago, Sarah left...
Sarah: "I was taking, I suppose, embarking upon a new life. But my whole heart was in it."
She came to Italy, and opened a bed-and-breakfast in Cortona, the place made famous by Frances Mayes' book Under the Tuscan Sun. Her husband came out occasionally on the weekends. The B&B was a big success.
And then one day, Sarah found this spot, high on a hillside. A place with magnificent views known for hundreds of years as Terranova, "new land".
Sarah: "And you can see in the distance, there are rows of olive trees and then we've got this lovely field where they've just been harvesting onions for the onion seeds. And it looked wonderful."
But when Sarah found this place six years ago, it didn't "look wonderful". Nine hundred years of history, first a fort, later a glorious palazzo, had been reduced to... manure. Farmer had turned "Palazzo Terranova" into a sheep barn.
Sarah: "But we bought it because of the position, which was just fantastic, and it spoke to us. It was really like falling in love."
And so Sarah moved up on this hill with her three King Charles spaniels, Bailey, Keats and Shelley, and set about creating her own version of paradise: and Italian palace, with eight airy bedrooms, comfortable furniture, and books - books piled everywhere. No detail was too small, from the bricks in the floors...
Sarah: "They're made of terra cotta, and they were all handmade."
To the soft green, yellow, orange and red walls...
Johnny: "They're 35 different hues of color in the house. They're all natural-based paints based on Pierro della Francesca. Yes, I became totally obsessive about the colors, I must say."
To the marble stonework...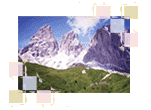 Johnny: "Those fireplaces are all hand-carved out of pietra de serena..."
To the garden out back, which Sarah and the Terranova chef, Merko, are keen to show off, because another important part of life at Terranova is... food.
Sarah: "It's all based on natural ingredients and fresh ingredients and Merko changes the menu every day, there's no repeat because it depends on what's fresh in the market."
It's all wonderful, though, I have to say, a little odd. Here you are in the Italian countryside, in a hotel run by a British couple whose guests, almost all of them, come from England, the U.S. and Australia. And all those details, the tile floors; the walls painted in the colors of a Renaissance master; the names of the rooms - "La Traviata", "Verdi", "Rigoletto" - based on operas or composers. It's more than any normal person would do. But it's the quirky originality of Sarah's quest that makes Terranova special.
Sarah: "It's very interesting. I think we see people at their best here. I think we find that people are able to find themselves here because they're not having to play any game, they're not bringing their deal with them, and they're not having to prove themselves. And we have pianos on each floor and it's amazing how many good pianists come and stay and so it's... the music of Terranova is more than having people stay. It's something that brings out the best in people. And I think that happening, it brings out the best in me and Johnny."
When Sarah gave us that little speech, it seemed totally honest, and her thoughts stayed with Mary Beth and me. Something else struck us, too. Before we left Los Angeles, we pored over guidebooks, searching for a special place to begin and end our vacation. And we thought we'd found it, at that hotel in Rome. But the most wonderful spot in our entire trip was the one place we didn't find in a guidebook, the one place where we had almost no expectations.
We cancelled our last night at the Albergo del Sole, in Rome. And now, many weeks later, the memory that lingers with us is of a pale yellow palazzo, perched high on a hill overlooking the fields and mountains of Umbria, lovingly restored by a British couple who went there to follow their dreams.
I'm JJ Yore for The Savvy Traveler.