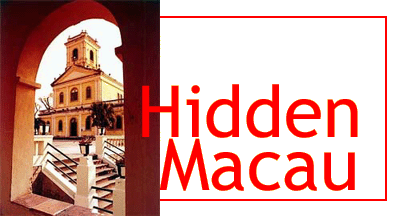 Intro: Macau, just 40 miles from Hong Kong, has always been a popular weekend destination for Hong Kong residents but is often overlooked by tourists from the West. Since the beginning of the last century until recently, those who did visit had more to say about the rather seedy casinos than the rich Portuguese colonial history and culture of the island. Since the hand-over of this Portuguese colony back to China last year, Macau's image is slowly changing. Crime is down and some of the casinos are spiffing themselves up. While no trip to Macau is complete without a little taste of the games of chance, The Savvy Traveler's Judith Ritter has found some offbeat ways to enjoy the local culture without losing her shirt.
Hidden Macau
by Judith Ritter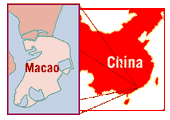 Although Macau's narrow cobblestone streets, pastel stucco buildings and abundance of café con leche remind me more of the Algarve than Asia, when I turn the corner on Tercena alley, I have no doubt the heart of Macau has always been Chinese.
Set out right here on the street are about 15 beat up, round plastic tables covered with piles of yellowing Mahjong tiles, each tile painted with delicate red and black Chinese characters. Green bamboo flourishes, wiry, gray haired men in strappy undershirts and flip-flops sit in the nearly 100 degree heat. They're smoking, laughing and slapping the tiles on the tabletops. Some of the players are just in for a hand or two, others settled in for as long as it takes to be a winner.
Joao: "The longest I played was one day and a half. One day and a half! And I know people who really can go longer. They make arrangements to have meals. We just make a phone call and they bring food over. Mahjong is something the more you play you don't get tired."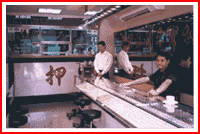 Today Joao Sales is just watching. But the sound of the tiles, like the voices of sirens, seduces even the most well intentioned. This morning, coifed women in flared polyester pants and floral print blouses set their bags down and join in. Frail elderly women in old style padded jackets scramble the piles of ivory tiles as they have seen their parents, grandparents, great grandparents do. Mahjong is centuries old. Its appeal is more ancient, powerful than casinos and slot machines. This is more than gambling. This is about community...but to be a member you must pay your dues. First you sit and watch a couple of years, then you play with the very elderly who are slowed down by age but still sharp enough to abuse a slightly hesitant neophyte
Joao: "They will shout at you. They will say 'Tetchecham, are you a bus station? Are you stopping for gas? Do you have to wait, stop over, eat, and go to the toilet?' Mahjong, they cannot wait. We don't mind waiting in a bank. We don't mind waiting in a hospital, but in a mahjong table we cannot wait. That is the only place in life we cannot wait!"
Survive the initiation and then you'll be privy to tall tales, like the one about the elderly man they called the King of Mahjong.
Joao: "His trick was he always brought with him ladies underwear in his pocket. Because there is a belief if you want to win money, carry lady's underwear. If you are a lady, you have to bring men's underwear. He had with him always those underwears."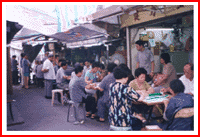 In Tercena alley, stakes are about as high as in a suburban Saturday night poker game. Not so in Macau's high roller casinos. Forget your lucky undies and you're likely to end up at one of Macau's dozens of pawnshops. Twenty-four hours a day, red neon bat wings, the pawnshop symbol, blink over doorway after doorway along the streets around the casinos.
Inside Sa Dao pawnshop, thick glass cases display rows of glittery watches, rings and gold chains thick enough for the pharaohs of Las Vegas. At the back of the store, Mr. Tsang Yuan Tong, the owner, looks out from behind bulletproof glass. Like a bank teller he negotiates with clients through a sliding window.
One fellow, sweating in shirtsleeves, standing on tiptoe to see over the counter, is pawning a jade ring. He doesn't want cash. "Cut to the chase", he says. "Give me casino chips."
"Not available", says Mr. Tsang without blinking. He's been in the pawnshop business for a quarter of a century and has seen it all.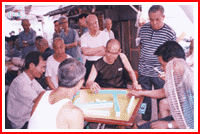 Mr. Tsang: "I think in my life the most remarkable thing is that I've got a client coming in trying to get his shoes exchanged for money. It is quite ridiculous, because I know that he's in need of money. And I did it for him, just because I know he needs money, a ferry ticket, to go back to Hong Kong."
Since the hand-over, business is up. Newly rich mainland Chinese are coming over to gamble and if their luck isn't top notch, their taste in the jewelry they've left behind is. Mr. Tsang, his own fingers sparkling with rings, opens drawer after drawer of treasures.
He's showing me a pair of Rolexes worth $45,000. Another drawer is filled with diamond rings, jade, ruby necklaces. Every gorgeous piece is a steal for the sharp shopper, a tale of bad luck for the former wearer. And what about that streak of bad luck? Will it ever change?
In Macau, there are many ways to find out. Fortunetellers abound in little shops, by appointment in upscale office towers, and places like this one: a little table on the street. The fortuneteller reads not only my palm.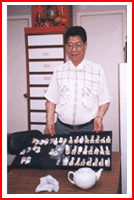 Fortuneteller: "By your eyebrows your financial situation will be getting better slow by slow. Money is not very easy to get because it will come easy, but it will also go out easy."
Don't like one fortune? Try another. Inside this 400 year old temple of Kun Iam, past the draping Banyan trees, past two good luck lions, and under a Ming dynasty porcelain frieze covered with good luck, dragons and fish is a small glass counter where visitors can check their luck.
For a small fee you can find your fortune by rattling a wooden cylinder of bamboo slivers, like ancient pick up sticks. When a single stick falls out, the tiny Chinese character painted on it is read by a sweaty, tired temple attendant.
Attendant: "You have to wait for two months before you can start to work. Wait two months and then you'll have the gates open for your success."
As if to confirm my rosy fortune, fireworks explode just outside the temple doors. I'll take that as a sign my luck is on the upswing.
In Macau, I'm Judith Ritter for The Savvy Traveler.
Savvy Resources:
GETTING THERE: From Hong Kong, the easiest and most convenient way to go is by sea. Jetfoils or ferries are both pleasant. Jetfoil is the fastest, taking only about an hour

Turbojet company in Hong Kong (phone): 852-28593333

GENERAL INFO: Tourism Board (phone): 853-66315566
mgto@macautourism.gov.mo

WHERE TO STAY: Luxury: Mandarin Oriental offers a good mix of Portuguese influenced atmosphere and excellent Chinese cuisine. It also boasts the only upscale casino on the island.
Phone: 852 2881 1988 1988
Email: mandarin@macau.ctm.net
http://www.mandarinoriental.com

Moderate: Pousada de Mong-Ha is a guesthouse run by students studying tourism
Phone: 853-561-252
Fax: 853-519-058.

WHERE TO EAT:

Portuguese/Macanese: Cafe Girassol is open 24 hours a day at the Mandarin Oriental Hotel

Fusion Portuguese/Chinese: O Porto Interior
Phone: 853-968-137.

Seafood at the Beach: Fernando's, Hac Sa Beach 9
Phone: 853-882-531