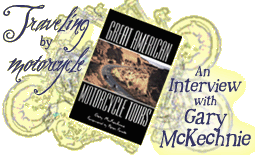 Traveling by Motorcycle
An Interview with Gary McKechnie
I'm Rudy Maxa and you're listening to The Savvy Traveler. Often when we travel we think about the place we're going, not how we're actually going to get there. But for many, it is the getting there that is the whole reason for taking the journey in the first place. And what better way to experience the voyage from point A to point B than with the help of a motorcycle.
Gary McKechnie is author of a new book called Great American Motorcycle Tours. Gary has written about his motorcycle trips for several years and his work has appeared in such newspapers as the Chicago Tribune and Washington Post. I recently asked Gary what the advantages were of traveling by motorcycle as compared to other types of transportation. Listen in.
Savvy Resources:
If you'd like to find out more about Gary McKechnie's motorcycle adventures and favorite routes, you can link on to his website at gamtours.com/.