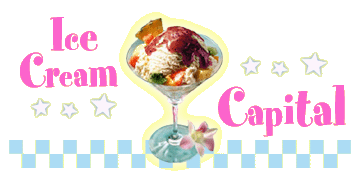 The promise of ice cream during a long summer car trip can bring peace to a back seat filled with rowdy kids. It can even quell the Are-we-there-yets. When I was a kid, I'd see the orange roofs of Howard Johnson restaurants and silently pray our car would slow down, we'd exit the highway, and I could indulge my addiction for banana ice cream from HoJo's. In Le Mars, Iowa, ice cream has been elevated to its well-deserved position of prominence. The Savvy Traveler's Susan Butler visits the ice cream museum in the self-described "Ice Cream Capital of the World".
Ice Cream Capital
by Susan Butler
Some of my fondest childhood memories involved ice cream. My best friend, Mona, and I spent most of our summer vacations as kids straining to hear the tinny little jingle of the ice cream truck. I always got a Bomb Pop. Mona was a Nutty Buddy girl. My mother and I covered countless West Texas miles in our yellow Plymouth, crooning along with Conway Twitty and Loretta Lynne while chomping on Dilly bars from every Dairy Queen between Midland and Monahans.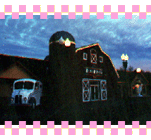 Angie Watson, a.k.a. the Ice Cream Empress, is the manager of the Wells Dairy Ice Cream Museum in Le Mars, Iowa. She hears lots of similar stories from the nearly 14,000 visitors who have made a pilgrimage to Le Mars since the museum opened last March.
Angie: "A lot of the people that had milk delivered to their door make the comment that that's one thing that they remember vividly as a child is when it got really cold and the milk would freeze on their front porches. The cream would rise up past the caps and they were able to scrape that frozen cream off the top of the bottles and they said that was just the best treat they could get."

Museum Video: "For centuries, men have sought answers to the great mysteries of the universe and the origins of mankind. They've gone to great heights and dove to the darkest depths. Yet one question remains: 'Dad, where did ice cream come from?'"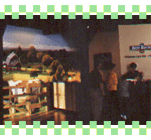 The Museum has a mini-theater where you can learn the history of ice cream. For instance, as early as 200 B.C., the Chinese mixed snow with milk and rice. Visitors also learn about the birth of the ice cream cone at the St. Louis World's Fair in 1904. And finally, we find out how this midwestern agricultural town got its unusual title.
Museum Video: More ice cream is made right here in Le Mars, Iowa by a single company than in any other city in the world, making Le Mars the undisputed 'Ice Cream Capitol of the World'."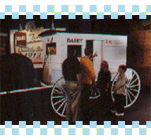 But quantity can sometimes jeopardize quality, so I decided to do a little investigative reporting at the adjoining Wells Blue Bunny Ice cream parlor.
Susan: "Mmm. It's a Raspberry Soda. This is excellent! Thank you."
No matter where you are in the world, it's a pretty safe bet you can find an ice cream parlor. At its best, it's can be a familiar place that allows you to indulge your memories of barefoot summers past.
From Le Mars Iowa, I'm Susan Butler for The Savvy Traveler.