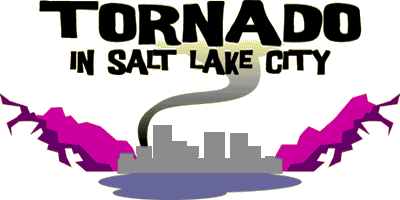 Tornado in Salt Lake City
by Shirley Streshensky
Dear Rudy,
Salt Lake City was supposed to be the calm after our storm of a trip into backcountry Montana and Wyoming. Suna and Rusi, our Singapore friends, wanted to see the Mormon Tabernacle before heading home. It seemed a safe enough plan. The weather was sunny and warm on that last morning. August 11th it was, a Wednesday. We drove to the ten block area in the heart of the city called Temple Square, the place where in l847 Brigham Young declared, "Here we will build a temple to our God."
After a guided tour, we milled around the North Visitor's Center, admiring its two-story glass windows, biding our time until the noon organ concert in the venerable Tabernacle. When we went into the concert, all was bright and clear. When we came out, the world had darkened ominously.
"We should probably head back to the Visitor's Center," I suggested, but my husband and friends lingered in the tree-filled square.
Rusi, an airline captain, looked up at the sky and said, "I've never seen a cloud like that." It was roiling and moving fast.
"We need to get inside," I repeated, my Midwestern instincts kicking in. This was tornado weather, even if it wasn't tornado country.
Suddenly, the rain came thundering down. We ducked into the only cover in sight, a small recession under the Tabernacle, three steps down to a locked basement door. The four of us squeezed in, with seconds to spare.
From this shallow haven, we watched as a ferocious wind bent the wooden steeples on the 1880 Assembly Hall across the way, watched tree limbs bend and crack and break, tracked a plastic trash can as it flew past us in one direction, then back in the other. The air crackled and roared. A pink baby blanket lifted and sailed heavenward. It was over before I could feel afraid. What I did feel was some righteous indignation at my traveling companions, for not listening to me.
Mormons with umbrellas came out looking for stragglers. They escorted us through a square littered with broken trees, past a Tabernacle door halfway ripped off, back to the Visitor's Center, where three stories of glass was now all rubble, but no one inside had been hurt. We were welcomed like lost heroes of the storm, survivors of a renegade twister which ripped through Salt Lake City that last day of our trip.