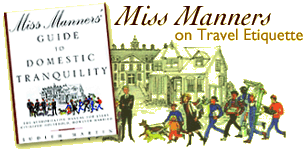 Miss Manners on Travel Etiquette
An Interview with Judith Martin
She has spent twenty-five years as a reporter, feature writer and critic for the Washington Post. She's written several books on the subject of etiquette and her column appears in over 200 newspapers in the United States and abroad. Her name is Judith Martin...but you probably know her as Miss Manners. Her most recent book is Miss Manner's Guide to Domestic Tranquility: The Authoritative Manual for Every Civilized Household, However Harried.
Miss Manners has written extensively on the subject of etiquette for everything from weddings to child-rearing to funerals. But what about the etiquette of travel? Rudy gets Miss Manners to tell all.